Italy's ANSA news agency and the Times of Malta reported Sunday that 28 people had been rescued in the Strait of Sicily, some 60 miles north of the Libyan coast. Up to 700 people are thought to have been onboard the boat that capsized.
The accident apparently took place on Saturday night. According to ANSA, a call to help was received by the Italian coastguard around midnight, saying the vessel had encountered "difficulty in navigation."
ANSA said a Portuguese merchant ship was passing by the boat after the call for help, causing all on board to move to one end to gain its attention. This was the apparent reason for the boat's capsizing.
Maltese Prime Minister Joseph Muscat said a rescue operation was underway.
Rescue operations in the Mediterranean Sea are generally coordinated by the Italian Coast Guard, in conjunction with the EU Frontex Triton border control unit.
In 2014, Italy's Interior Ministry said over 3,500 migrants died in the attempt to cross the Mediterranean. This year alone, some 900 casualties have been recorded - not taking into account Saturday's capsizing.
If confirmed, the tragedy would be the biggest mass drowning to date of migrants attempting to reach the European Union over the Mediterranean.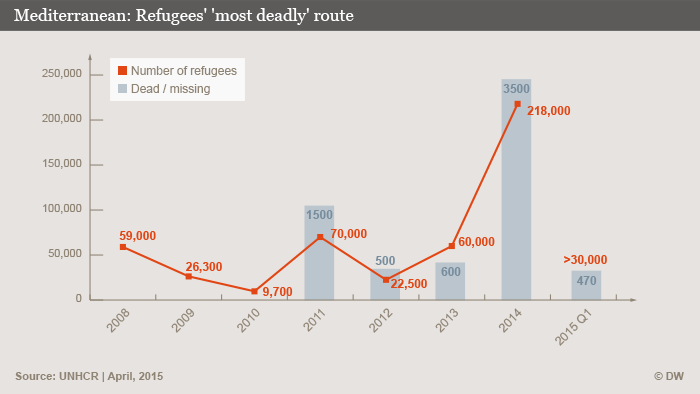 glb/sms (AFP, Reuters)