The economy in the German capital, Berlin, has grown faster in the past five years than in the rest of the country. On average, annual economic performance from 2005 to 2009 improved by 1.7 percent compared to 0.5 per cent in the rest of Germany, according to a study released on Wednesday by the German Institute for Economic Research (DIW).
The author of the study, Karl Brenke, said Berlin had "managed to turn the corner" after a 10-year shrinking process. He added that the sole growth motor was the service sector. A strong expansion was recorded in the health and education sectors – areas where income depends mainly on the government and social insurance schemes.
However, the performance of private companies in sectors like the advertising industry also grew considerably, Brenke pointed out.
Tourism was booming, but overall the hospitality industry contributed only three percent to the Berlin economy, the study showed. Industry remained weak, the report's author said, adding that the capital city had therefore been little affected by the economic crisis.
More people employed
The increase in economic performance in Berlin also saw a rise in the total number of people in work. According to the study, from the second quarter of 2005 to the first quarter of 2010, the workforce grew by 140,000, marking a nine percent increase.
In comparison, the number of people employed in the rest of Germany during the same period rose by just 3.5 percent.
The growth in the labor market mainly involved regular jobs requiring employees to make social insurance contributions, but the number of self-employed people in Berlin also saw a "dramatic increase" by 2009. Last year, one in seven Berliners were self-employed compared to one in nine throughout the rest of the country.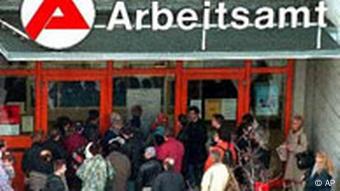 The number of unemployed also rose in the capital
Berlin lagging in absolute terms
However, the report's author also highlighted some gloomy aspects of the job market in Berlin. The number of unemployed in the capital also grew faster than the national average.
The study showed that almost half of all unemployed people in Berlin have no professional training, with 80 percent living off welfare benefits under the government's Hartz IV program for the jobless.
The study pointed out that despite the generally positive development over the past few years, Berlin still has a lot of catching up to do when it comes to economic power. The city's gross added-value per inhabitant, for instance, only amounted to around 23,500 euros ($30,216) – just over half that created by residents in the northern city of Hamburg.
Author: Ranjitha Balasubramanyam (AFP, Reuters)
Editor: Sam Edmonds