The Brandenburg Gate has long since been a popular site for all kinds of events, whether it be political speeches, rock concerts or cultural festivals. Friday night saw the spacious square at the gate transformed into an outdoor cinema for a gala screening of the legendary science fiction film "Metropolis".
Fritz Lang's seminal work was first released in 1927. An epic tale set in a sprawling futuristic dystopia featuring expressionist camera work, cutting edge special effects and ambitious set design, "Metropolis" has since become an acclaimed example of early German cinema.
What makes this year's screening so special is the fact that experts believe that for the first time in more than 80 years, spectators have the chance to view the film in the original version which Lang intended.
25 minutes of extra footage
Last year, a surprise discovery in the Museo del Cine in Buenos Aries recovered a 16mm duplicate of the original "Metropolis"; a find which restored around 25 minutes of extra footage to the 2001 "long" version. The film was immediately transferred to the Friedrich Wilhelm Murnau Foundation for verification. They confirmed the film was genuine, a statement which rocked the film world. Work began immediately on the restoration and for this, music played a key role.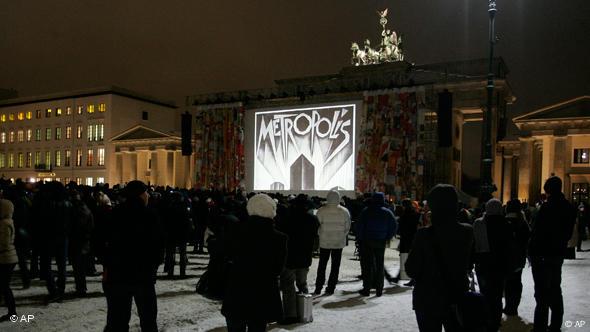 More than 2,000 enthusiastic film fans came to see the restored original version at the Brandenburg Gate
"First of all you have to find out where to put these scenes. When it was edited they just took one sequence out," explained Eberhard Junkersdorf, President of the Board of Trustees at the F. W. Murnau Foundation.
"They have taken sequences out here, some shots [were] taken out there and it was only by having the original score by Gottfried Huppertz that it was possible because there were notes made, there were remarks made for every scene. This is Fritz Lang's film and it is understandable now."
'Too sophisticated' for 1920's audience
For a film which is now so highly esteemed, it is curious to note that "Metropolis" was not a success when it was first released. Shot at the famous Babelsberg film studios over a period of 17 months the film at the time was the most expensive German movie ever made.
German cinema was especially buoyant in the Twenties with iconic movies such as "Nosferatu", "The Cabinet of Dr. Caligari" and "Dr. Mabuse" all appearing throughout the decade, putting German film and filmmakers on the map.
"Metropolis" should have been another such event picture, a skillful mix of experimental film techniques combined with political and social commentary resulting in healthy box office receipts. It was not to be.
"It was too sophisticated," said Werner Sudendorf, head of collections at the Deutsche Kinemathek, the museum for film and television in Berlin. "When you saw 'Metropolis' you had to think about it. And who likes that? It was not an easy movie. In 'Metropolis' you have the modern city, you have the robot, you have the destruction of the city, you have airplanes going through the city, it's everything. So it's a Babylon of different ideas."
Production company UFA opted to screen "Metropolis" in only one Berlin cinema for a disappointing four-week run. American exhibitors edited the film themselves ahead of the US release to cut what they saw as extraneous material and to reduce the weighty running time to something more palatable.
New version is Lang's director's cut
In an era where exhibitors threw artistic respect to the wind and were not averse to making their own edits to films it is no surprise that several curtailed versions of "Metropolis" have been in circulation over the years. Lang's director's cut has long since been the much sought-after Holy Grail of silent cinema.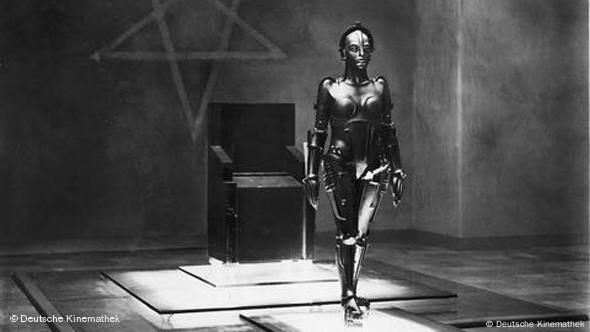 An epic tale set in a futuristic dystopia featuring expressionist camera work, special effects and ambitious set design, "Metropolis" has long since been an acclaimed example of early German cinema
The sudden unexpected discovery of the film in South America ties in nicely with the party atmosphere already taking place at this year's Berlinale. The festival is celebrating its 60th birthday, a milestone anniversary for one of Europe's key film meets.
For an event dedicated to promoting the best new talent the world has to offer, it seems somehow fitting to roll back the clock and give a classic from the early days of cinema pride of place within the program. And the Berlinale pulled out all the stops. "Metropolis" was premiered in the opulent Friedrichstadtpalast with the original score performed live by the Berlin Symphony orchestra, conducted by Frank Strobel.
Broadcasted on TV and at Brandenburg Gate
As a sign of the Berlinale becoming less exclusive and perhaps as an indicator of how significant "Metropolis" is in German cinema history, the film was simultaneously screened on cultural TV channel Arte as well as being broadcast live at the Brandenburg Gate. Braving below-zero temperatures, hundreds of film fans showed up complete with blankets and flasks of coffee to sit and watch this historic moment.
"It's great," said one shivering spectator. "Maybe it would've been better to do this in summer but everyone is making the best of it and having a good time."
"If you think about the classics of the that era, you have Buster Keaton's 'The General', Murnau's 'Nosferatu', but the top of the pile is always going to be Fritz Lang's 'Metropolis'," said another through chattering teeth.
Berlinale Festival Director Dieter Kosslick sees this year's screening of "Metropolis" as something different. "You could say it's a birthday present. It's really the kind of film we want to have for such a celebration."


Author: Gavin Blackburn
Editor: Andreas Illmer