The program for the Berlin International Film Festival was presented on Tuesday (02.02.2016) by the director of the event, the colorful Dieter Kosslick. The Berlinale takes place from February 11-21.
"Hail, Caesar!," a star-studded comedy by the Coen brothers, will open Berlin's international film event. George Clooney, Nicole Kidman, Tilda Swinton, and Gerard Depardieu are just a few of the big names expected to walk the red carpet, along with Meryl Streep, who will head the seven-member jury.
Competing for the Golden Bear
Among the 18 movies in the official competition is the German film "24 Weeks," by Anne Zohra Berrached. It tells the story of a couple considering abortion in the late stages of a pregnancy. Three other German co-productions are on the list, including "Alone in Berlin" by the Swiss director Vincent Perez, based on Hans Fallada's 1947 war novel "Every Man Dies Alone."
Other renowned directors competing for the top honors include Thomas Vinterberg of Denmark, Danis Tanovic of Bosnian, André Téchiné of France, and the Canadian Denis Côté.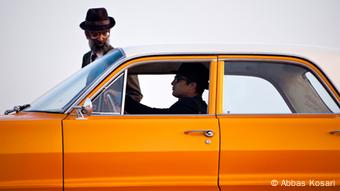 A scene from "A Dragon Arrives!" by Mani Haghighi - an Iranian filmmaker who wasn't banned from working in his country, contrarily to Jafar Panahi
An Iranian contribution, "A Dragon Arrives!" by Mani Haghighi, is also among this year's contenders. Iranian filmmaker Rafi Pitts is competing with his film "Soy Nero," co-produced by France, Germany and Mexico. Last year's Golden Bear was awarded to the Iranian dissident filmmaker Jafar Panahi for "Taxi."
Two documentaries are featured in the competition as well: the Italian Gianfranco Rosi's "Fire at Sea," about the Italian island of Lampedusa, the European landing point of many immigrants, and "Zero Days," by the American director Alex Gibney, on Internet surveillance.
Exploring 'the search for happiness'
Other highlights of the program include Spike Lee's satirical music drama "Chi-Raq," screened out of competition.
The film festival will also pay tribute to three outstanding artists who died in January 2016: David Bowie, Alan Rickman and Ettore Scola.
Discussing this year's program, Dieter Kosslick said it was difficult to pin down one single overarching theme, but pointed out that many of the movies selected for the event explore "the search for happiness" and "migration in the world in very varying forms."
He also announced that different initiatives to help out refugees would be taking place during the festival.
eg/kbm (AP, dpa)