One of the many proposals to be advanced in the wake of the December 19 attack on a Christmas market in Berlin, which killed 12 people, is for increased video surveillance in Germany as a whole and in particular in the nation's capital. Germany's Interior Ministry has urged Berlin to install more CCTV cameras, but the city government - a coalition of the Social Democrats (SPD), the Greens and the Left party - says it's still weighing its options.
"We're looking very closely at the topic of video surveillance and discussing it with our coalition partners, and we will be making a proposal in January," the SPD spokesman of Berlin's interior administration, Martin Pallgen, told DW in a statement.
That's not soon enough for German police representatives, who are going on the offensive in an attempt to force a rethink. In a number of public statements on Tuesday, they characterized the city's position as "absurd" and "irresponsible."
"It's a bit perverse when the authorities call on people to send them mobile phone videos and at the same time refuse to ensure that there is public video surveillance," Ernst Walter, the deputy head of one of Germany's main police unions, told DW. "On the one hand they hide behind data protection considerations, and on the other they know that without video evidence they can't catch criminals. This resistance has got to stop, especially after we've seen what negative consequences it can have if we don't catch the perpetrator."
The man blamed for the attack in Berlin, Tunisian national Anis Amri, allegedly fled the scene after he drove a truck through a crowded Christmas market. He remained at large until Italian police shot him dead in Milan on December 23. Police spokespeople think that technology could have helped them locate Amri more quickly.
"You can't stop a terror attack like the one on Breitscheidplatz square with video surveillance," Walter said. "But you can use it to apprehend the perpetrator. We saw how bad it was in Germany. Amri disappeared, and we couldn't arrest him."
But can police advocates convince a left-wing city government to overcome its resistance to more state surveillance?
A new political wind blowing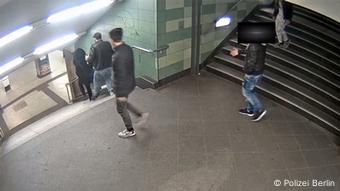 This footage helped police find a man who attacked a woman in a Berlin subway
National representatives of both the Greens and the Left Party have come out against the idea of installing more CCTV cameras in the capital. For example, in an interview with German public television on Tuesday, Left party MP Frank Tempel - who himself was trained as a policeman - called video surveillance a "very expensive and very futile" method of crime prevention.
Ernst Walter disagrees, saying that CCTV cameras are useful both in solving and preventing crimes. He cites the examples of video footage leading to the capture of a man who kicked a woman down a flight of subway steps and of police bodycams helping to reduce attacks on law-enforcement offices.
He also highlights the role played by CCTV in the case of seven youths who tried to set a homeless man on fire in a Berlin public transport station.
"I think the chances of overcoming political resistance are very good because we've had a lot of very good examples [of the usefulness of video surveillance]," Walter said. "We had the subway attack in which seven suspects turned themselves in because of video images. You can recognize that a lot of minds are being changed politically in the grand coalition - not just in the CDU but also in the SPD. The state needs to overcome its helplessness."
That seems to be an accurate assessment of the political situation at present. SPD security experts on the national level are urging the Berlin government to alter its position.
"I can only recommend that the Berlin government expand video surveillance on all public squares," SPD parliamentary spokesman for interior affairs Burkhard Lischka told the "Rheinische Post" newspaper on Tuesday.
Lieschka added in a radio interview that video footage was becoming increasingly important in solving crimes. And in public transport and other areas, CCTV is being increasingly utilized anyway, though not everyone agrees that it does any good.
More harm than good?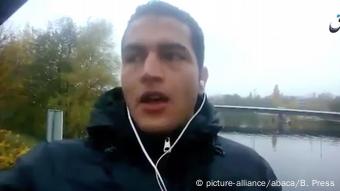 Amri was captured on video in France while on the run to Italy
Critics dispute the effectiveness of video surveillance for both preventing and solving crime. In an interview with German public radio, Peter Schaar, former Federal Commissioner for Data Protection and Freedom of Information, took issue with the assumption that surveillance cameras would have helped police track down Amri.
"Video cameras don't automatically deliver someone's name, address and current whereabouts," Schaar said and proceeded to cite the fact that Amri was falsely identified on video footage outside a Berlin mosque the day after the attack.
Schaar acknowledged that video surveillance does have legitimate uses but cautioned that it needed to be combined with risk analysis. And he worried that the omnipresence of CCTV cameras might actually encourage acts of terrorism.
"The person who was shot to death in Milan left behind a calling card - and this wouldn't be the first time that a terrorist has purposely revealed his identity," Schaar said. "In cases of suicide attacks, which is what this was, video surveillance helps very little. The attackers in the London public transport bombings of 2005 purposely presented themselves to CCTV cameras because they hoped that the images would be shown in the media and would thereby augment the effect of the act of terrorism."
The Association of German Judges also opposes the increased use of security cameras.
"Terrorist attacks may even possibly be encouraged," association spokesman Jens Gnisa told DPA news agency on Tuesday. "Perpetrators may specifically seek out locations under video surveillance in order to render their deeds even more visible to the public at large."
Nonetheless, in a recent Yougov survey, 60 percent of respondents said they thought expanded video surveillance would make Germany more secure.