A group of people attempted to set fire to a homeless person sleeping in a Berlin subway station on Christmas Eve, police said on Sunday.
Police were searching for five or six unknown assailants who threw a burning object onto the 37-year-old man, setting fire to his bedding, a police report said.
People passing by, including a train driver with a fire extinguisher, rescued the man from the flames. He was uninjured but his belongings were destroyed.
"These days we should expect charity. Instead, we are experiencing human contempt," said Berlin's state interior minister Andreas Geisel on Sunday.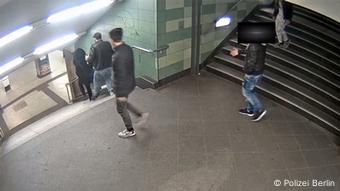 Just two weeks ago the nation was shocked by an unprovoked attack in a station three stops away on the U8 line
"I am horrified and thank all those who have courageously helped. This is true humanity."
The attack happened in the Schönleinstraße U-Bahn station, on the border of the Kreuzberg and Neukölln districts.
Police were treating the attack, which was captured on unreleased closed circuit camera footage, as an attempted murder.
German news agency dpa said the attack was carried out by a group of teenagers.
Only two weeks ago, an unprovoked attack in a station three stops away triggered nationwide condemnation. A 27-year-old Bulgarian man allegedly kicked a young woman down a set of stairs in Hermannstraße, breaking her arm. The incident was captured on security cameras.
After the attack, several police organizations called for more video surveillance in Germany.
aw/jm (dpa, epd, AFP)