"Help! How can we survive the winter in Berlin?" That's what I read in the Berlin daily "Tagesspiegel" a few days ago.
The thought that this article concerns the suffering of Berlin's homeless people immediately crosses my mind. But no. The author doesn't mention them, not even with a single word.
Instead, I learn about Berlin's colorful hat fashions during the dark months and that Germany's most performed playwright Roland Schimmelpfennig, a Berlin resident, suffers from the winter blues.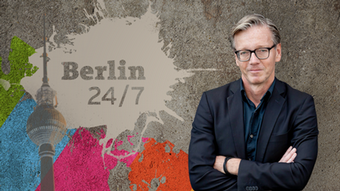 Berlin 24/7, a column by Gero Schliess, is published every Sunday
In short: The article is not about survival, but excess. And that although the homeless can hardly be overlooked in Berlin.
Perceiving the homeless more consciously
I admit, I have also tried to avoid the homeless. Most of the time, I just encounter them from a safe distance, like outside the supermarket where people pretend not to notice them, or mumble something like "I have no money" while quickly looking the other way. Once in a while, people do throw a few coins into their cans. But who actually looks at their faces?
These thoughts cross my mind when I meet Debora Ruppert, who has lived in Berlin since 2007. She has a degree in theology and works as a photographer. In her photo series "Streetlife Berlin," she portrayed the homeless. She has a heart for people who are marginalized, the young woman tells me with warmth in her voice.
The pictures deeply touch me. Here, Ruppert shows how life has affected the faces of these people - everything you don't see when you look away. In one photo, a man with a cigarette in his mouth blinks into the camera with a smile. He is called "Teufel," which means "devil," and comes from Eastern Europe. I would have loved to talk to him. Due to the language barrier, Deborah Ruppert could only communicate with him using gestures.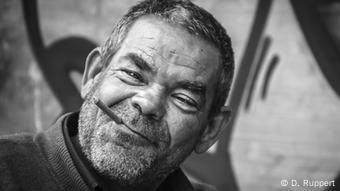 This homeless man, photographed by Debora Ruppert, goes by the name of Teufel
A totally different impression is left by the portrait of a woman who looks questioningly into the camera. When she was taking the picture of this woman, Ruppert recounts, she was surrounded by men who were shooting up. While looking at the face of that woman, I wonder what she's been through.
Berlin - refuge for people from Eastern Europe
Deborah Ruppert has met the homeless at all kinds of locations - at the "Zoo" train station, Alexanderplatz square, the Tiergarten park and the bank of the River Spree. According to estimates, 4,000 to 7,000 homeless people live in Berlin, though the Berlin Senate says there are fewer. A Senate spokeswoman tells me on the phone says she doesn't have precise statistics. I wonder how the Senate can efficiently help these people if it doesn't even know how many there are.
The only thing the spokeswoman seems to know is that, year after year, the numbers rise. She says Berlin has become a kind of refuge for many people from Eastern Europe. The capital also differs from other German cities in that it has the highest number of homeless - although the winters here are particularly cold.
Merry Christmas!
This morning, I feel the bitter cold while going to the "Bahnhofsmission," a center at the Zoo train station for the homeless where they can get food, take a shower, or have their hair cut. They're also provided with sleeping bags and warm underwear to protect against the extreme cold. Getting off the underground line U2, I see a man with a woolen hat, an open beer bottle and a few plastic bags sit down on a bench on the platform. Immediately, a young woman gets up and goes away.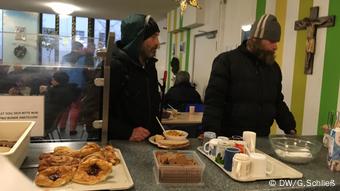 These homeless men are getting a hot meal at the Zoo train station shelter
A short while later, I sit down with Dieter Puhl, the manager of the "Bahnhofsmission." Our conversation upsets me. Now, as the winter kicks off, there are only 534 emergency accommodations, he says, adding that several people have already died from the cold on Ku'damm, Berlin's most famous shopping boulevard.
What kind of a city lets people die of the cold, right next to luxury boutiques? Then I meet Draga Benjamin. Despite the cold, he is wearing flip flops and woolen socks. With his naked legs, the man has survived on the street since 2015, with his few belongings kept in a trolley.
Looking into his eyes, I feel that this isn't only about a place to sleep, but a place in life. Cold can kill, but so can our ignorance. Draga Benjamin and the other homeless deserve more commitment from all of us. And next time I spot one of them in front of the supermarket, I will go over to talk to him, or at least wish him Merry Christmas!