Why do people found societies for the prevention of cruelty to animals? "To protect animals from humans," is the answer I heard many times over at a recent gala event celebrating the 175th anniversary of Berlin's Society for the Prevention of Cruelty to Animals.
The phrase still resounds in my mind. It's a straightforward, clear sentence, but at the same time, it's a highly explosive accusation that holds such disappointment concerning the human race. I wonder what's wrong with us humans that animals need protection from us.
Tribunal on the stage
I certainly never expected the yawning abyss that lurked behind the invitation to the animal protection gala.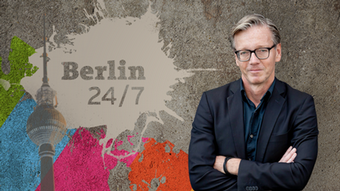 As I made my way across town to the Friedrichstadtpalast venue in downtown Berlin, I reminisced about the contented, purring cat my family had when I was a child. I was looking forward to a fun evening.
Usually the site of lively shows, the huge stage at Friedrichstadtpalast had, however, become a platform for a tribunal. Factory farming, animal testing, cruelty to animals - suddenly, these buzzwords came alive to me, taking on a painful urgency. Backed by images of mishandled pigs, German folk music singer Stefajie Hertel sang "A pig's dignity is inviolable" - which would have been very funny on the comedy stage next door. Here, I choked on my laughter.
Start with the food industry
Animal protection starts with eating, Hertel, a staunch vegetarian, told me after her performance. I'm not about to become a vegetarian myself, but I do resolve to pay more attention to where the meat I buy comes from, and how the animals were raised.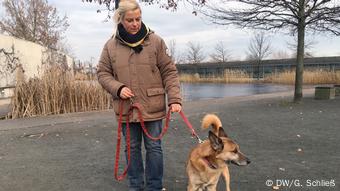 12-year-old Rocky and his volunteer dog walker
The plight of pigs is one thing - Berlin's more than 100,000 stray cats are another. They're left to their own devices; only a few sympathetic souls and animal protection activists keep an eye on them. The latter take strays to one of Europe's largest animal shelters in the Northeast of Berlin, financed only by donations amounting to about eight million euros ($8.6 million) per year.
Nine vets, 60 caretakers and many volunteers take care of more than 1,400 animals - dogs, cats, 18 monkeys and a pig named Christiano Ronaldo.
Cat cuddling at the shelter
Quite a few teenagers help out at the shelter, too, cuddling cats or organizing vegetarian cooking classes. "We don't want to be part of your selfish world," a young man tells the gala audience. I have the feeling this is what motivates most volunteers and donors: to appreciate and protect animals as living beings. Treating animals with respect should be part of how we understand our lives and the world.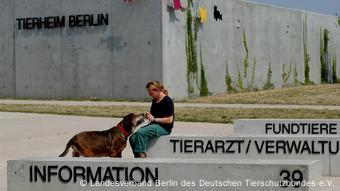 Hundreds of animals have found a home at the Berlin animal shelter
Animal protection has a long tradition in Berlin. The Berlin animal protection society - founded by Prussian civil servant C.J. Gerlach after he witnessed cruelty against a carriage horse - is one of the oldest in Germany, and has 15,000 members.
Political lobbying
That's a dimension politicians in Berlin can't ignore. Chairwoman Ines Krüger says the new Berlin state government has included some of the society's demands in its coalition agreement, including drastic cuts in animal testing, the development of alternative procedures, banning horse-drawn carriages from downtown Berlin and naming an animal protection commissioner.
Congratulations to the Berlin's Society for the Prevention of Cruelty to Animals! They've managed the next step on the path to a better world - for the animals, and for us.