A jury set up by the Berlin city council has decided on the form of a memorial that will be officially inaugurated on December 19, 2017, the first anniversary of the terror attack on Breitscheidplatz square that killed 11 people and seriously injured many others.
Chosen from seven competing designs, the memorial by the designers Merz Merz envisages a gold alloy-filled crack in the ground in the square in front of the church where the Christmas market takes place each year.
An inscription on the memorial will read: "In memory of the victims of the terror attack on the Christmas market on December 19, 2016. For the peaceful coexistence of all people."
The names of the victims and the countries they came from will also be inscribed at the front of the steps to the church.
Read more:Help for Berlin Christmas market terror victims 'better late than never'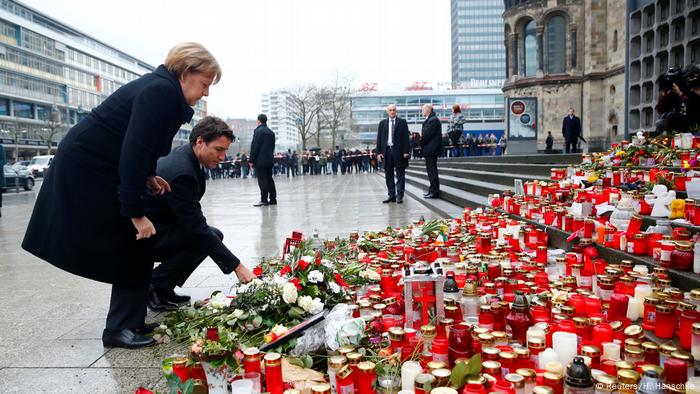 German Chancellor Angela Merkel and Canada's Prime Minister Justin Trudeau paid their respects at the site of the Berlin terror attack
The terror attack happened when a Tunisian man, Anis Amri, ploughed a lorry into visitors to the Christmas market on Breitscheidplatz on December 19 last year. Amri killed 12 people and injured more than 60 others, having earlier killed the Polish driver of the truck before hijacking it.
Speaking after the jury decided on the memorial design, Berlin's Mayor Michael Müller said, "The terrorist attack on the Breitscheidplatz has hit us deeply. To this day, the participation has been overwhelming. People from all over the world place flowers or light candles to remember the victims. We want to give this memory a permanent place. It was important to us that this place makes a worthy remembrance with the victims at the center."
With the memorial due to be unveiled on the first anniversary of the attack, work will begin rapidly on its construction.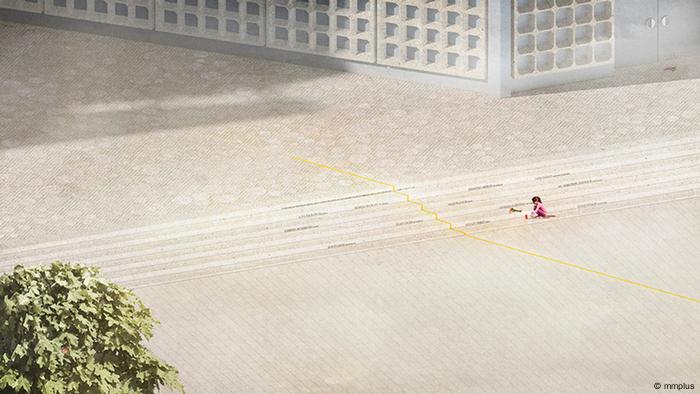 A long view the selected design for the memorial to the victims of the Breitscheidplatz attack
sb/kbm (with dpa)