At this year's Berlin Film Festival, a documentary about one Palestinian village's commitment to non-violent resistance placed second as audience favorite. The award is overshadowed by the high-profile prizes decided by the jury, but nevertheless has managed to launch this film internationally following its European debut in the German capital. The film's next stop is the Human Rights Watch International Film Festival in London in March.
"Budrus" - the name of the film refers to a village in the West Bank - tells the story of a community using peaceful means to protest the course of the Israeli border fence whose construction would have devastating effects on the local population. With the support of Israeli activists, the village forms an unusual alliance and challenges other communities to follow its example. Deutsche Welle spoke with the film's Brazilian director, 29-year-old Julia Bacha.
Deutsche Welle: What is your reaction to your film winning second place as audience favorite?
Julia Bacha: It's wonderful. Receiving this award is all the more special in Germany, where there's so much history, such as a wall that once divided this city, along with the history of the Holocaust. To be here amongst Palestinians and Israelis with a story of struggling together for peaceful coexistence, it's an amazing honor to know the audience loved the film so much.
Your film is actually composed of the work of numerous people behind the camera on location in the village of Budrus. How many were involved, and what was your role?
There were about 12 different sources of footage - that is, people who were filming. No one person was there from the very first day through the entire period until the end, but someone was always present. I did many of the interviews, as well as the kind of filming in terms of cinema verite. You see more interactions between people because I was filming to make a documentary.
The activists weren't filming for that purpose; they were trying to prevent human rights violations, to have documentation if they needed to use it in court. Filming was also used as a preventive measure because, the more cameras you have, the more likely you're able to control at least some of the violence.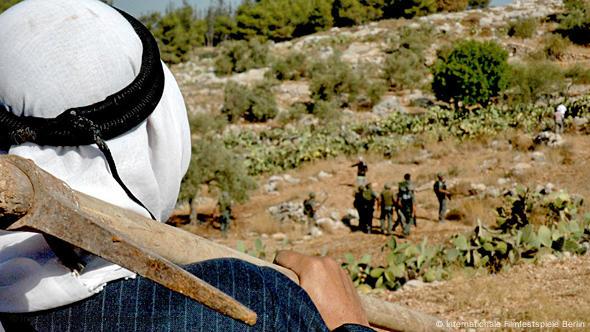 Footage for the film came from a dozen different sources
Some documentary filmmakers say they know they're doing their job well if they're criticized for bias by people on opposite sides of a controversial subject. Do you feel your film tells a balanced story about this very charged issue?
There is a population that is living under occupation, and that creates an asymmetric relationship between the two peoples. So it is not our aim to claim that the situation is a balanced one. We want to be honest and treat everyone's needs, fears, and rights to security with a lot of respect. We do not want to shy away from any aspect of the situation.
That's why it's really important to hear [in addition to the main Palestinian activist and his daughter] the Israeli Defense Forces spokesperson and the Israeli border policewoman who is also stationed there. We really wanted to show the human perspective, the experience of these people being there, rather than telling the story on a political level.
So you're not taking one side or the other in the film, but showing the potential of non-violent resistance in the West Bank?
Yes, we're focusing on this one specific story about what happened in the village [of Budrus] and that civilians have a role to play; that regardless of how we arrived at this huge problem [of the Israeli-Palestinian conflict], we can all help move this forward in a positive way that will respect the rights of both peoples.
Your documentary is an unusual testament to the process of both sides uniting in the name of non-violence and coexistence, but it's not hard to imagine that many Palestinians and Israelis will be polarized when they see the film.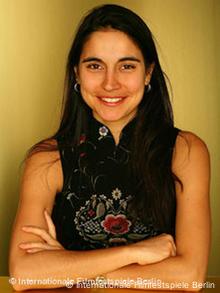 Bacha focuses on the Middle East in her films
I think that's going to be a great conversation to have. Just the very existence of the debate is already a huge step forward, because this conversation has not been happening; the non-violent demonstrations have been off the radar. There's very little press coverage of them right now and not much discussion in mainstream Palestinian and Israeli society about this issue. We want it to be there.
I think the film's criticism and challenges are fair, and they're true. I can't claim to tell Palestinians what to do; nor is it my place to tell Israelis how their conflict is going to be solved. But I do think this one story we focused on shows what's possible when Israelis and Palestinians of all stripes, genders and political orientations come together to work towards a shared future - a just, shared future.
What other reactions to your film have you had so far?
We had several test screenings with Israeli audiences, and the reaction has been really good, in many instances surprisingly so. There's a move towards trying to control some of this [non-violent] activism that is happening on the ground in a variety of ways, so now is the moment for this film.
I think there's going to be controversy; it will be a hard film for some people to see, but I think they are going to engage with it, and that's what we want. In addition, the Israeli public has enormous respect for the Berlin Film Festival. It's regarded as the place where the best films come from. There's an incredible amount of deference to what's shown here, so this audience award will be a great boost to our ability to reach many more audiences, especially in Israel.
Interview: Alexa Dvorson
Editor: Kate Bowen