A young woman finds a way to deal with the rape of her mother in the Peruvian Civil War; a family's life in the Philippines during US occupation: these are stories not often seen in Hollywood blockbusters but rather in low-budget, independent films that are not always easy to find.
For over five years, the Berlin-based World Cinema Fund has supported such independent productions from around the world, and its backing is crucial for filmmakers from countries with little film-industry aid.
The 2009 Peru film "La Teta Asustada" ("The Milk of Sorrow"), a film about Peru's Civil War, is one such movie. Director Claudia Llosa, who last year won a Golden Bear, the top prize awarded at the Berlin Film Festival, tells the story of a daughter who inherits her mother's pain and fear, and gives voice to that pain through songs sung in Quechua, the language of the indigenous people of Peru.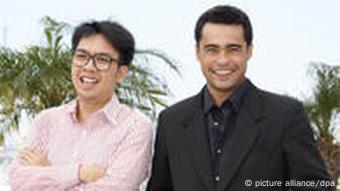 Martin (right) directed the film "Independencia" about a family living in the US-occupied Philippines
"When we started the World Cinema Fund five years ago, there was a need to become active in countries where cinematography is not fully developed, and where there is only little money," said Berlin Film Festival director Dieter Kosslick.
"It's not that we in Europe have too much money to make movies, but I think we can really share some of it," he added.
The search for authentic, local stories
The Fund's recipients hail mostly from Latin America, Africa and the Middle East, and it has helped diverse projects from countries including Mexico, Kyrgyzstan, Indonesia and Algeria. More than 70 films, both fiction and documentary, have benefited from the World Cinema Fund so far. Each production receives up to 50,000 euros ($68,700), with additional support for distribution, including subtitles and advertising to help the films make it into German cinemas.
"We feel a bit like pearl divers," said Sonja Heinen, a member of the World Cinema Fund jury. "We are looking for strong authentic stories originating in the region where they are going to be filmed; they should be rooted there."
However, that doesn't mean that the films must have a political storyline, she added. The films are meant to be independent cinema, not mainstream, with innovative visual ideas, artistically sophisticated concepts and new forms of aesthetics.
"Films that dare to do something new," said Heinen.
Few strings attached
"Paradise Now," an independent film by Hany Abu-Assad was nominated for an Ooscar in 2006
Money provided through the World Cinema Fund can be spent entirely in the country in which the film is being shot, boosting local film industries, and there are few restrictions on how the money may be spent. Filipino director Raya Martin, who directed the film "Independencia" about the US-occupied Philippines, said he appreciated the freedom.
"These films won't be getting support from private institutions and very little from the government," he said. "The WCF is one of the few funders that really respect what the filmmaker wants to do."
It's very hard to find something like the World Cinema Fund nowadays, he added, since a lot of the institutions that support films impose their own ideas about the country onto the production.
Martin said he was surprised that the World Cinema Fund was not better known, given that many films it has supported have gone on to receive prestigious awards and nominations. The Palestinian film "Paradise Now," was nominated for an Oscar, and others were screened at the Cannes and Venice film festivals.
Money always an issue
But according to Michael Weber, who has co-produced several World Cinema Fund films, while festival glamour is all well and good, it's also important that the films are financial successes.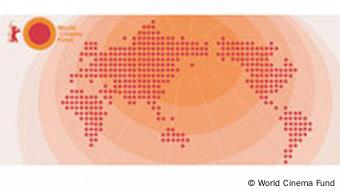 The World Cinema Fund was founded by the Berlinale and the German government's culture fund
"It would be nice if I could say we're only doing that for artistic reasons, and because there are such great directors out there, and it's great to be a patron of the arts. But that's not the case," he said.
Weber has sold the rights for his film, "The Milk of Sorrow," to more than 30 countries, which is unusual for such a small art-house production. Films selected for partial funding by the World Cinema Fund are more attractive to producers as they present less of a financial risk than films without backing, Weber said.
Nevertheless, it's unclear how much longer the Fund will be able to support productions like "The Milk of Sorrow," since it currently receives most of its financial support from the German Federal Cultural Foundation, and that support is only guaranteed until next year. The Fund is now on the lookout for new partners.
"Everyone who gets involved in something like this hopes of course that a little jewel that comes into existence somewhere - which no one knows about at the beginning and which the WCF supports - will become a huge success," Weber said.
Author: Aygul Cizmecioglu (ad)
Editor: Kate Bowen