Angela Merkel has come to Brazil mainly because of Brazil, but also because of Portugal. They play Germany in Monday's World Cup clash, and football fan Merkel will cheer on the national team in the stadium.
Before that, Merkel met Brazilian President Dilma Rousseff for talks on the two countries' political and economic relations. They seem to be in rude health, according to statements from both leaders in a joint news conference on Sunday (15.06.2014)
Trade top of the agenda
The most important topic was free trade between the two big regional economic blocs,the EU and Mercosur. Rousseff and Merkel said they would continue to foster free trade between these major markets. After years of stagnation, they are hoping to give the project some much-need impetus.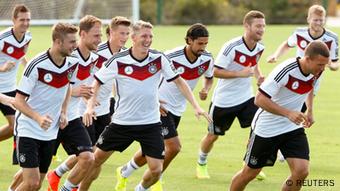 Merkel is in Brazil to support Germany's World Cup campaign
Rousseff and Merkel emphasized the positive developments in bilateral trade between Germany and Brazil. Germany is Brazil's most important trading partner after the US and Argentina. Brazil, in turn, is Germany's most important market in Latin America.
The Brazilian chambers of commerce estimate that around 1,200 German companies have operations in Brazil. Trade volume between the two countries is rising steadily - last year it was $22 billion (16.2 billion euros).
The two leaders are also optimistic for the future. "There's further scope for trade and investments," Rousseff said. In particular, Brazil wants to export more finished products to Germany.
She also emphasized the opportunities for investment in the energy and infrastructure sectors in Brazil. "I see great potential for cooperation in the energy sector - in renewables as well as in conventionally produced energy," she added.
Historian Alexandre Hecker from the Mackenzie University in Sao Paulo believes that cooperation will make trade ties between Brasilia and Berlin mutually beneficial.
"The dialogue between the two economic great powers offers promising opportunities for the transfer of technology," Hecker told DW. He also points to the historical ties - in the late 19th and early 20th century, many Germans emigrated to Brazil - as a boon to closer ties.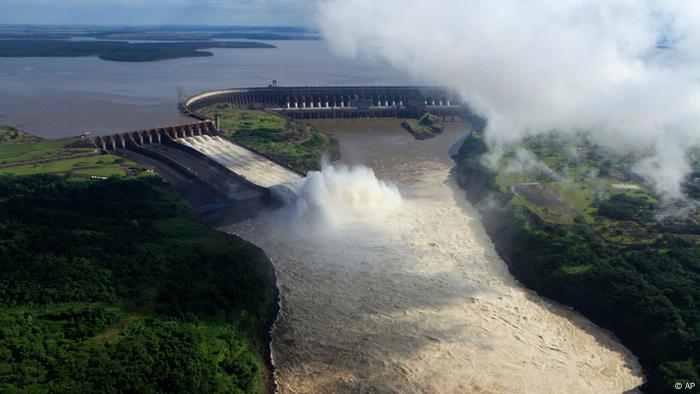 The power of water from the Itaipu dam near the Brazil-Paraguay border
"Brazil can use this relationship to become more independent from the US," Hecker believes.
Political dimension
Politics were also on the agenda - both leaders said they were satisfied with the success of theGerman-Brazilian initiative for the protection of civil rights in the digital age. In December 2013, the UN General Assembly had passed a resolution on the right to privacy on the Internet.
It is not legally binding, but it is highly symbolic - it has become very clear that the NSA's spying activities have made both Brazil and Germany determined to act. Both Rousseff's and Merkel's mobile phones were tapped by the US intelligence agency.
Brazil and Germany are to meet for regular consultations from next year. The meetings are meant to flesh out and implement common interests, like the initiative for more seats in the UN Security Council.
Marco Troyjo, director at think tank BricLab, which is affiliated with Columbia University, thinks Brazil and Germany are well advised to intensify relations. "Germany and Brazil are increasingly viewing each other as partners, which will help strengthen ties between them."
So much for the political and economic agenda. At the moment, though, there is of course something a lot more important to deal with: the Football World Cup.