France's Foreign Ministry on Tuesday launched an enquiry into the killing of a Chinese national by Paris police after Beijing filed an official complaint and urged French officials to "get to the bottom of the incident as soon as possible."
A spokeswoman for the Chinese Foreign Ministry also said that the steps should be taken to ensure the safety of Chinese citizens living France after around 100 members of the Chinese community protested in the French capital Monday night.
The French Foreign Ministry also sought to calm concerns in Beijing, saying the security of Chinese citizens was a priority. "Additional (security) measures have been taken in recent months and everything has been done to provide them with the best conditions for living here and for their security," the ministry said in a statement.
Three policemen were injured and 35 people were arrested in Monday night's demonstrations in the northeast of the capital. One police vehicle was damaged by an incendiary device.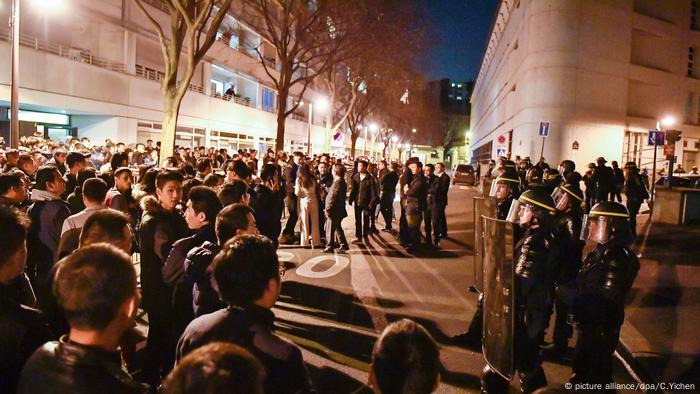 Police stood in front of the police station in the 19th arrondissement on Monday night
Victim's family disputes official version of events
Sunday's incident saw police shoot dead a Chinese national in his apartment in front of his family. The police officer had been called to the scene to investigate an alleged altercation with a neighbor. Paris authorities maintain that the man attacked the policeman with scissors.
However, lawyer Calvin Job said the family of the dead man "totally disputes this version of events," saying that the man, a father of four, had been trimming fish with the scissors when police came to the door.
"Police forced open the door of the apartment, pushing him back," Job said, adding that the police "shot without warning" even though the man did not rush towards them.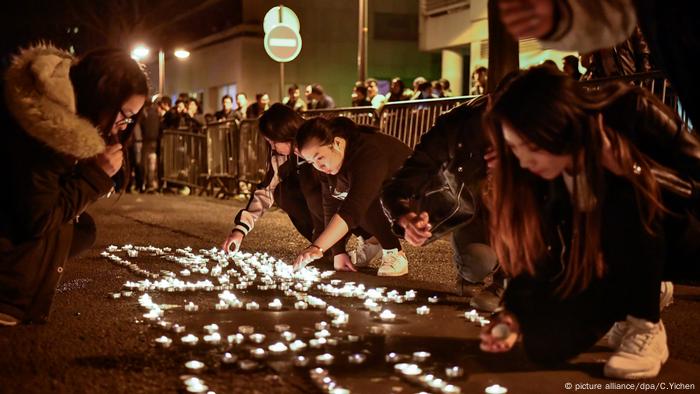 About a hundred people from the Chinese community took part in the protest
Discrimination against France's Chinese population
France's Chinese population has routinely accused the police of not doing enough to protect them from racism, as well as the media of neglecting their plight.
"Chinese are victims of racist attitudes in France - especially from other ethnic groups like Arabs," Pierre Picquart, Chinese expert at the University of Paris VIII, said. "They are targets for crime because they often carry cash and many don't have residence permits, so can be threatened easily. They're angry with police for not protecting them enough."
Last September, some 15,000 people rallied protest calling for an end to discriminatory violence and ethnic tensions after a Chinese tailor was beaten to death.
"Chinese people do not like to protest or express themselves publicly, so when we see them like this it means they are very, very angry," Picquart said. "They've had enough of discrimination."
France is home to some two million ethnic Chinese, more than any other European country.
dm/jm (AFP, AP)