DW: Mr. Bosz, football in Germany is often still defined by its aggressiveness and physicality. How do you like the way football is played in the Bundesliga?
Peter Bosz: I like the football in Germany. The atmosphere in the stadiums is always good. When you talk about aggressiveness and physicality, you have to say: that's where it all starts. That is the foundation, but it is not the end all be all. Players need a professional attitude, without which you cannot win any games. But there is so much more.
What do players still need?
The players need to have good technique. Without proper technique, you can't do what I want to see as a coach. Of course, success is always in the foreground, and you can achieve it in different ways. All roads lead to Rome. My approach is attacking football with a compact defense. With this playing style, I want to entertain the fans in the stadium. People should see a great game. When I go home, I should say: "Wow, that was exciting." But we also need to win matches; that is most important.
That means, because of your courageous playing style, you accept your team will sometimes concede goals?
When we execute the proper playing style — play compact going forward and in defense — then we will concede very few shots on goal and therefore fewer goals. The team proved in the second half of last season that that works. In contrast to the first half of the season, we not only scored 17 more goals but also conceded six fewer. But it's true: If we do not implement our plan correctly, then there is a lot of space behind our defense that opponents like to use. But even with defensive tactics, you can concede a lot of goals.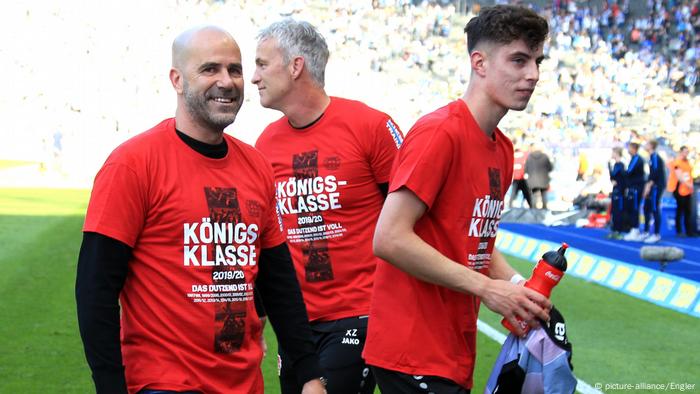 Leverkusen coach Peter Bosz (left) and midfielder Kai Havertz (right) celebrate the club's qualification for the Champions League
You were yourself a defensive midfielder. Why do you prefer attacking football so much?
That's connected with emotions. I like to watch teams where something happens. Playing wide, playing backward, only playing long passes, that doesn't belong to the football that I love. I want to cheer when I watch football. It should be fun to watch. That also is why I try to let my team play in a way that the fans like.
You are a former Dutch international. If you could bend time, would you the coach select Bosz the player?
No. My quality [as a player] was not good enough for the football I like to see [as a coach].
Are defensive players even noticed in the Netherlands?
In Holland, we only really have Ajax. There, the style of play always is becoming more attacking. All the other teams are compact in the back. However, often they defend with many young players that are not even 20-years-old yet. That's why it may not look as physical as it does in Germany.
Why is only Ajax able to play this way?
That is because the players in the youth ranks play from the back, press high and [want to put teams under pressure]. That is the club's philosophy. They also have not only the best players but also the most money. They are clever.
In Germany, there are complaints that there are hardly any street footballers with exceptional technical skills left. Do you miss, perhaps with the exception of Kai Havertz, this type of player too?
There are always these types of players but you can't be afraid of using them because they work a bit more unstructured than their peers. Kai is not, but most of the others are. That was also an issue in Holland. Back then, when I was still playing on the streets, parents said that these types of players don't exist anymore. Perhaps maybe we coaches have also changed. When I drive through the streets, I still see boys that are playing in the street. They still exist.
You spoke with Johan Cryuff for a week about football shortly before he died of cancer. What did you take away from these conversations?
Johan was a man who always thought and behaved independently, who had no fear and followed his path — even though there were setbacks. He was courageous, and he loved football and good players. I also go my way, which I believe in and of which I am convinced. I don't believe that you can be successful in the long run if you are constantly changing directions.
How has Bayer Leverkusen been successful since you took over as coach?
It starts with the fact that we have good players and a clear idea of how we want to play. We have convinced the players that they can do it. Then the players also are having fun and stand behind [our philosophy]. All players like to have the ball. Sometimes we have 70 per cent of the ball and want to play forward. If the players are having fun, then most of the time they are successful, too.
When you were introduced in Leverkusen, you said: "Most people in Germany have not seen the true Peter Bosz yet." What does the true Peter Bosz look like?
I said that because people always remember their last impression — the final minutes of a game, the end of a long football career, the final weeks of my time in Dortmund. We played good football in Dortmund at the beginning and got good results — we were five points in front of Bayern Munich. And I wanted to show that our football also worked over long stretches. In the second half of last season in Leverkusen, it already was better.
Peter Sylvester Bosz, born November 21, 1963, is a Dutch football coach and a former professional footballer. As a player, he played for various clubs in the Netherlands, France, Japan and Germany. He played 14 games in the Bundesliga with Hansa Rostock. After his playing career, he became a coach and worked for various clubs in the Netherlands. In 2016, he was appointed to the Israeli club Maccabi Tel Aviv. After spending time with Ajax and Borussia Dortmund, Bosz was appointed as Bayer Leverkusen's coach in January 2019.
This interview was conducted by Jörg Stroschein.