The mayor of Barcelona, Ada Colau, spoke out on Monday against a unilateral declaration of independence by the Catalonian regional government, warning that it would put "social cohesion" at risk.
The results from the Catalan independence referendum "cannot be an endorsement to proclaim independence but they constitute the possibility of opening a dialogue and international mediation," Barcelona's popular mayor said.
Read more: An 'unknown disaster' looms in Catalonia's independence crisis
But despite coming out against independence, Colau accused Spanish Prime Minister Mariano Rajoy of being the "main culprit" in what she described as "the most severe institutional crisis since the re-establishment of democracy in Spain."
She said the Spanish prime minister had only inflamed tensions by threatening to use a constitutional clause that would allow Madrid to impose control over Catalonia's otherwise autonomous governing institutions.
"Don't take any decision that would dynamite the space for dialogue and mediation," Colau said in a public address directed both at Rajoy and Catalonia's regional president Carles Puigdemont. "That's the bravest thing that you can do at this moment."
Puigdemont is due to address the regional parliament at 6:00 p.m. local time on Tuesday (1600 UTC), where he may unilaterally declare independence for the northeastern Spanish region in defiance of the Spanish central government and national courts. The Catalan parliament is then expected to vote on the motion, with Madrid worried it will vote in favor of the independence declaration.
Pressure on Catalan leader mounting
Puigdemont, however, has come under increasing pressure at home and abroad to refrain from declaring independence. Rajoy has already threatened to deprive Catalonia of its autonomous status, while European leaders have almost unanimously refused to recognize Catalonia as an independent country.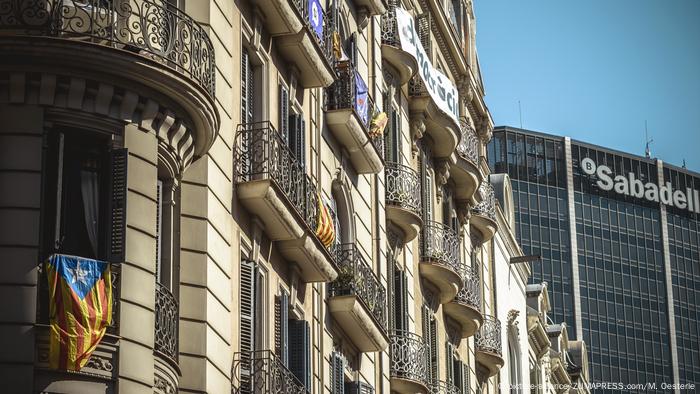 The 'Banco Sabadell', the fifth-largest banking group in Spain, has announced plans to relocate its headquarters from Catalonia.
A potential Catalan secession from Spain would also have major economic ramifications. Several major banks have already announced plans to move their headquarters out of Catalonia. On Monday, motorway operator Abertis said it would move its main offices from Barcelona to Madrid.
Spain would also suffer economically from Catalan secession, with the region accounting for around a fifth of Spain's economic output and more than a quarter of exports.
Read more: Catalonia independence: Secessionists start to feel the squeeze
The Catalan independence referendum saw 90 percent of voters come out in favor of independence of Spain, though turnout was only around 43 percent, with many opponents choosing to boycott the vote. Madrid had also declared the referendum as illegal.
Around 900 people were injured on polling day, as Spanish authorities disrupted the "outlawed" vote by firing rubber bullets and storming crowds.
Catalonia's tartan allies
Puigdemont does have one ally in Europe, however, as the Scottish National Party (SNP) unanimously-passed a resolution during its party conference on Monday declaring the Catalan referendum an "expression of the democratic will of the people of Catalonia."
The party, which itself advocates for Scottish independence from the United Kingdom, called on the UN and the EU to resolve the political impasse over the Catalan referendum.
Read more: Scottish National Party urges EU to respect Catalan vote
Scottish leaders decried the scenes of violence during the vote, with one SNP lawmaker who was in Catalonia on voting day, Joanna Cherry, saying she had witnessed "repression on a scale I never expected to see in a Western European democracy."
The Scottish party paid tribute to "the patient, determined and non-violent behavior of the voters of Catalonia" and stressed their support for the right to self-determination.
dm/bk (Reuters, AFP)