The Ekushey book fair is an important annual event for all book lovers and intellectuals in Bangladesh, and the venue was filled to capacity when blogger Avijit Roy and his wife Rafida Bonya Ahmed visited the fairgrounds in the evening of February 26, 2015.
After visiting some bookstalls and signing his books in which he had questioned the existence of God, Roy, along with his wife, walked out of the premises and made their way to their car. All of a sudden, they were attacked by at least three youths wielding machetes. The men hacked Roy to death and seriously injured his wife. The incident was over in a minute, taking place on a crowded street watched over by a police checkpoint.
Killers remain at large
A year has passed since the brutal murder, but the police say they still have no clue regarding Roy's killers. An advocate of free speech in Bangladesh, Roy founded the Mukto-Mona blog, a platform for free-thinkers.
Monirul Islam, the head of the counter-terrorism and transnational crime unit of the Dhaka police, thinks that an Islamist group by the name of ''Ansarullah Bangla Team'' conducted the killing. The group itself claimed responsibility for the murder on the very night of the incident.
"We haven't found any eyewitness prepared to give a deposition regarding the murder of Avijit Roy. A few people have talked to us, but none of them were able to describe the faces of the killers," said Islam.
Blogger Rafida Bonya Ahmed, who lost a thumb and survived major cuts on her head in the attack, casts serious doubts on the comprehensiveness of the investigations. "No one from the Bangladeshi government or the investigating authorities has been in touch with me," she told DW.
The police have detained at least eight suspects, but none of them has yet to make a confession.
Bloggers flee Bangladesh
Following Roy's murder, three more bloggers and a publisher of his books were killed within a few months: Washiqur Rahman Babu, Ananta Bijoy Das, Niloy Neel and Faisal Arefin Dipon. Islamist groups claimed responsibility for these killings on social media.
They say that the bloggers have criticized Islam - an act they claim cannot be tolerated. All the victims were supporters of Roy, which indicates that the killers targeted people somehow connected to his Mukto-Mona blog, which hosts numerous posts on atheism, rationalism and science.
Rafida Bonya Ahmed says this is not only about fanatics reacting violently to criticism of Islam. It is also a battle between secularism and extremism. "Historically, fundamentalists have always felt threatened by scientific facts and secularist ideas," she told DW, explaining that Mukto-Mona has been a pioneer in Bangladesh's blogging world doing exactly that. "It is easily understandable why they perceive us as their prime enemy."
The killing spree led a number of bloggers to flee the country, atheist blogger Asif Mohiuddin relates. "At least 28 bloggers have fled Bangladesh over the past year, and another 40 are seeking ways to do so due to the constant fear of being attacked."
Mohiuddin has been living in Germany since 2013 after being attacked by religious fundamentalists in Dhaka and jailed by the government for criticizing Islam. His blog was banned, which ultimately led him to leave the country.
"A number of international organizations are now helping Bangladeshi bloggers who are in desperate need of help," said Mohiuddin.
International support
In a bid to support these bloggers, a solidarity book fair and discussions between Bangladeshi bloggers in exile and European rights experts were held on February 21 in the Netherlands.
Jakob de Jonge, one of the event's organizers and the director of the Hague Peace Project says that what is happening with bloggers and free-thinkers in the South Asian nation is not acceptable."We will do everything in our power to create more space for freedom of speech in Bangladesh," he said.
Rights experts who attended the event called on the international community to support bloggers and ensure free speech in the nation of some 160 million people. Amnesty International's Aura Freeman said that Dhaka had an international obligation to protect the right to freedom of expression.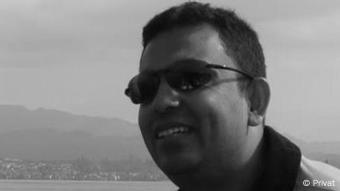 A year has passed since the murder of US-Bangladeshi blogger Avijit Roy
"There have been frequent attacks on those exercising their rights to freedom of expression. And the way in which we can hold the government accountable is by putting international pressure on them through various platforms," she said.
But exiled bloggers are doubtful that the situation in Bangladesh will improve anytime soon. They view the country's main political parties as having a similar stand on free-thinking and secular bloggers.
"None of them want to support us, as they think this could cost them votes from devout Muslims," says a popular blogger who wishes to remain anonymous. "Our image as bloggers has been tarnished to such an extent that it will not recover in the short term."