UN Secretary General Ban Ki-moon arrived in Liberia on Friday on the first stop of a visit to West African countries affected by the Ebola crisis.
During his two-day tour of the four nations struck by the worst ever outbreak, Ban will assess global efforts to fight the epidemic.
"I want to see the response for myself, and show my solidarity with those affected and urge even greater global action," Ban told reporters ahead of his trip. "Local communities and national governments are highly engaged. There has been an impressive outpouring of life-saving contributions from across Africa and across the world."
Ban was welcomed by Liberian Vice President Joseph Boakai in the capital, Monrovia, and is scheduled to meet President Ellen Johnson Sirleaf as well as officials from the UN Mission for Ebola Emergency Response (UNMEER).
The UN chief will also travel to Guinea, Sierra Leone and Mali, where the UN is leading the response to the crisis.
UN agencies criticized for "slow response"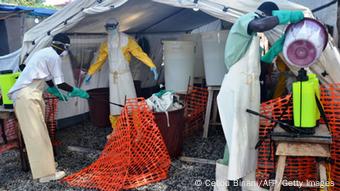 Health workers at a Medecins sans Frontieres (MSF) Ebola treatment center in the Guinean capital, Conakry
The visit from the UN Secretary General comes almost a year after the Ebola outbreak began in Guinea.
Ban's tour of West Africa also follows sharp criticism from non-governmental organisations that UN agencies like the World Health Organization (WHO) have been too slow to respond.
Ban is being accompanied by WHO Director-General Dr Margaret Chan, UN Special Envoy on Ebola David Nabarro, and UNMEER chief Anthony Banbury.
The WHO said the death toll from the epidemic rose to more than 6,900 as of December 14, with the majority of fatalities in West Africa.
The virus, which causes vomiting, diarrhea and bleeding in its final stages, is spread through contact with the bodily fluids of infected people.
Liberia has the highest death toll with around 3,290 fatalities. Earlier this month, Sierra Leone recorded the largest number of Ebola infections.
Ban recently said, with increased international mobilization, the outbreak could be brought under control in 2015.
lw/dj (AFP, Reuters)