The blasts in the port city of Mukalla also injured at least 10 people, according to eyewitnesses.
The attacks come only weeks after Yemeni forces, backed by Saudi Arabia, regained control of Mukalla from al Qaeda jihadis.
The Thursday bombings targeted a military base and appeared to be a revenge attack by the militant group.
However, al Qaeda's rival "Islamic State" (IS) group claimed responsibility for one suicide car bombing. The militant organization said in an online statement that one of its members had blown himself near government troops.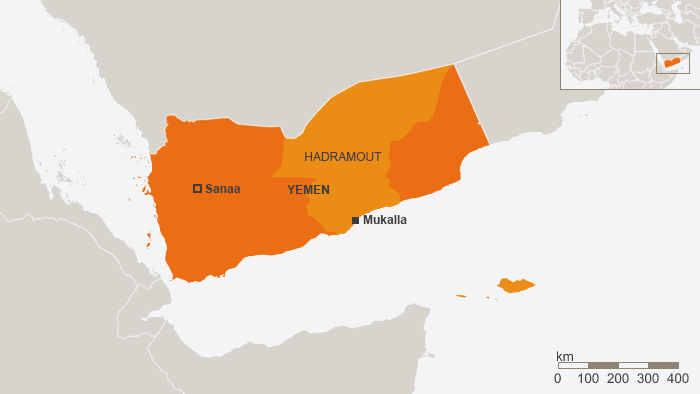 Al Qaeda fighters also clashed with President Abed Rabbo Mansour Hadi's forces after the blasts.
The Yemeni government is facing a protracted insurgency launched by Iran-backed Shiite Houthi rebels, but al Qaeda and IS jihadis have taken advantage of the conflict to expand their control in the country, especially in areas where Hadi's forces have defeated the Houthis.
A Saudi-led coalition of Arab states launched a military campaign against the Houthis last year. Riyadh accuses Tehran of supporting the rebels, who have made significant territorial gains in the impoverished Middle Eastern country, capturing the capital, Sanaa, and ousting internationally recognized President Hadi, who fled from Yemen in 2014.
Peace talks continue
Meanwhile, Yemeni and Houthi negotiators held talks in Kuwait for the third day in a row.
The participation of the Houthi rebels at the peace talks hosted in the Kuwaiti capital came after assurances that pro-government forces would respect the current truce.
On the agenda for the peace talks, according to a Yemeni source quoted by the dpa news agency, are: security measures, withdrawal of the armed factions and the handover of their weapons to the state, the reinstatement of public institutions and the resumption of political dialogue.
"Parties began to present their visions on the withdrawals and the handover of weapons, especially mechanisms of withdrawal and assembling of forces," UN envoy Ould Cheikh Ahmed said on Thursday.
According to the UN estimates, more than 6,400 people have been killed in Yemen and over 2.8 million displaced since March last year.
shs/sms (AFP, dpa)