The participation of the Houthi rebels at the peace talks hosted in the Kuwait capital came after assurances that pro-government forces supported by Saudi Arabia and its allies would respect the current truce. The talks were due to start on Monday but were delayed by a rebel protest over alleged Saudi violations of the ceasefire which went into effect on April 11.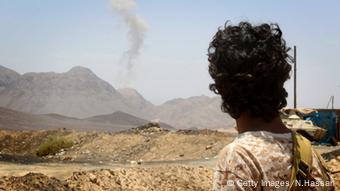 The fragile ceasefire in Yemen has held, with some violations, for more than a week.
On the agenda for the peace talks are security measures, withdrawal of the armed factions and the handover of their weapons to the state, the reinstatement of public institutions and the resumption of political dialogue, according to a Yemeni diplomatic source cited by the dpa news agency.
The Houthi representatives and their allies from ex-president Ali Abdullah Saleh's party arrived just hours before the talks began on Thursday. Delegates from Yemen's government and the UN special envoy for Yemen, Ismail Ould Cheikh Ahmed, were also present.
In remarks carried on Kuwait's state TV, Cheikh Ahmed opened the peace talks, commenting that more than 7,000 people had been killed since late March 2015. He appealed to the parties in the conflict to work to reach a comprehensive and durable accord to end hostilities.
"Today, you have one of two options; a secure nation that guarantees an honorable life, or the ruins of a nation," Cheikh Ahmed said, adding that Yemen was "closer to peace than any time before." The UN special envoy called for "compromise" solutions, saying there should be no delay in peace negotiations for the war-torn country.
Deadly toll
Together with the dead and injured, some 2.8 million people have been displaced in Yemen over the last 13 months since the Saudi-led coalition of forces started its operation, including airstrikes.
The operations were launched to halt the Iran-backed Houthi rebels who had seized large areas of territory, including the capital Sanaa. Saudi Arabia and fellow Sunni allies launched airstrikes in March 2015 after the mostly Shiite rebels advanced on the southern city of Aden, forcing President Abed Rabbo Mansour Hadi to flee the country. Hadi, a Sunni, went to Saudi Arabia, where he now lives.
Introducing the meeting on Thursday, Kuwaiti Foreign Minister Sheikh Sabah al-Khaled Al-Sabah said the talks were "a historic opportunity" to end the bloodshed. "War will only lead to more devastation, losses and displacement of people," he said.
The United Nations has promoted the talks in the hope they would end the conflict which has been exploited by jihadists and increased tensions between Shiite Iran and its Gulf Arab neighbors. Riyadh fears that Yemen's rebels will give Iran a base in the Arabian Peninsula.
jm/msh (AFP, AP)