The new year is less than a week old, but the far-right FPÖ (Freedom Party of Austria) has already managed to create a stir in the country. Vice Chancellor Heinz-Christian Strache has suggested placing refugees in old army barracks for the duration of their asylum application process and imposing a nightly curfew for them.
"We need order as long as there is an open asylum application process," Strache said in an interview with Austrian public broadcaster ORF.
The FPÖ has been the junior partner in a government coalition with the conservative Austrian People's Party (ÖVP) since December last year. In the government's almost 200-page long program, it says "there's no room for illegal migration, which often abuses the right to asylum" in Austria.
Fellow FPÖ politician and Austria's interior minister, Herbert Kickl, is also in favor of housing refugees in army barracks to make sure they're "all in one place." In an interview with Austrian radio station Ö1, Kickl said that since young men are expected to live in barracks during their military service, refugees could do the same.
'A sign of political failure'
Austrian politicians left of center are aghast at Strache's newest suggestions.
"It's a sign of political failure when you're not even trying to help people who come here achieve independence, but simply lock them up instead," Social Democrat Jürgen Czernohorszky, Vienna's city commissioner for integration, said in a statement.
Czernohorszky accused the FPÖ of not understanding the concept of integration and "replacing it with internment."
He called on Chancellor Sebastian Kurz to distance himself from Strache's ideas and get his coalition partner back in line. The way things are right now, Czernohorszky said, the government appeared to have an unacceptable view of humanity: "It seems that to the government, refugees are first and foremost criminals that need to be locked up."
Stricter migration policies
Austria's new leadership plans to implement several contentious measures to deal with refugees. In their government program, the FPÖ and ÖVP state that migrants will have to relinquish all of their cash when they apply for asylum. The money will be used to pay for basic services for asylum applicants and other migrants in need.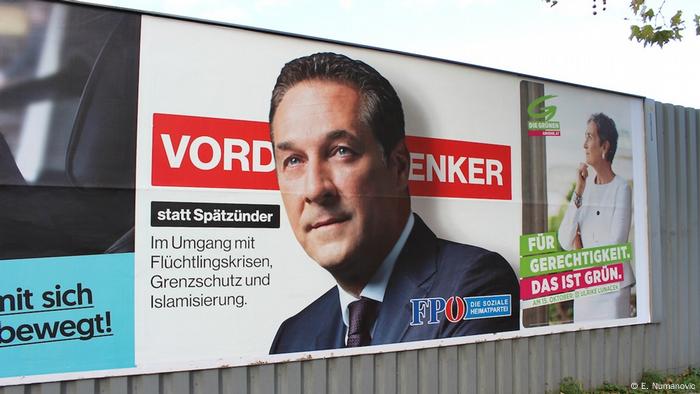 One of the FPÖ's 2017 campaign posters positioned Strache as a 'pioneer' on refugee issues
Asylum applicants will also have to hand their cell phones over to the authorities so that data on the devices can be collected. And in some cases, the new rules state, doctors who treat asylum applicants must forego medical confidentiality to provide the authorities with information.
'New apartments instead of new mosques'
The slogan "Austria first," inspired by US President Donald Trump's stated "America first" policy, features prominently on the FPÖ's website. But the party has been known for its populist, nationalist stance long before it became part of Austria's current government.
In the country's 2015 regional elections, the party campaigned with billboards that stated Austrians would feel foreign in their own land because of the growing number of immigrants and refugees. One poster called for "new apartments instead of new mosques."
In a 2012 local election in the state of Tyrol, an FPÖ poster encouraged Austrians to love their home country and reject "Moroccan thieves." The incident drew international attention when an official from Morocco's foreign ministry complained about the poster to Austria's ambassador in Rabat.
"I politely invite Morocco to take its criminals back," replied Gerald Hauser, then head of Tyrol's FPÖ chapter.