Today about 1,000 migrants will pass through Austria's border with Slovenia. Each newcomer will be carefully searched, fingerprinted and have their papers checked.
Probably about 100 or so will request asylum, a dozen or so will be sent back to Slovenia and the rest will travel on to Germany. And those fingerprints?
Nearly all of them will be expunged from the files.
Critics say keeping fingerprints is essential for helping track migrants, to ensure they aren't requesting asylum in multiple countries and to prevent someone who has already been turned back from trying to enter a second time on a fake passport.
Why Austria only keeps fingerprints for asylum-seekers who stay in the country is a puzzle.
Illegal migration
Steve Peers, a University of Essex professor and specialist in European law, says an EU regulation linked to the Dublin Convention, which governs asylum rules, requires all member states to take fingerprints of anyone who applies for asylum or who enters illegally.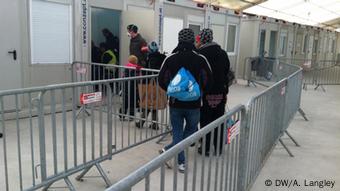 Austria has been expunging refugee fingerprints
"It's legitimate to take personal data of passport holders to control illegal migration," Peers said.
But the Austrian government's interpretation of the regulation is that only states on the EU's outer borders, like Croatia or Slovenia, and states where someone requests asylum may save fingerprints. All the rest must be deleted for data protection and privacy reasons.
Interior Minister Johanna Mikl-Leitner believes the country must change the law if they want to keep the fingerprints of those who move on to Germany for asylum. "I, too, am not happy with our current system, but the required sharpening of border control laws were turned down by our coalition partner," the conservative party member told the newspaper Kurier, which first reported the story.
Not so, counter the Social Democrats. Keeping fingerprints is already allowed by law, Josef Ostermayer, the secretary of state, told Austrian radio ORF today. But, he added, "We'll write it in a second time, even if it's already there."
Avoiding responsibility
But EU law specialist Peers and opposition Green Party members say they believe the reason may be more sinister.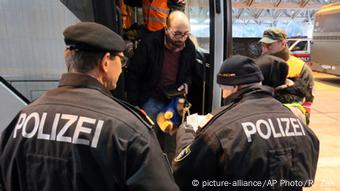 Most refugees travel through Austria on to Germany
"Seems to me they want to avoid responsibility for the asylum claim," Peers said.
Alev Korun, a human rights specialist, charged that countries along the Balkan route don't register migrants because they don't want to ultimately be responsible for them.
Peers agreed. "If a member state reimposes border controls, the Schengen Borders Code says those borders are then external. So I am not convinced by the Austrian argument, if we are talking about people stopped at reimposed border controls."
The ultimate solution, Korun said, is an EU solution.
"Together we must use all our energy to create EU reception centers with registration and subsequent distribution of asylum-seekers in all EU countries, including sharing costs," Korun said.
Fritz Grundnig, a spokesman for Styria Police, who are responsible for border control at the Slovenian frontier, said he saw no advantage in keeping the records once each person had been checked and stated that they wished to continue to Germany.
"We'll continue with the current procedure," he said. "How it will develop in the future, I don't know."