Speaking to reporters in Perth on Monday, Australian Prime Minister Tony Abbott defended his government's controversial policies of turning back boats full of asylum seekers, or sending them to detention centers offshore. In a report to be formally submitted Monday to the United Nations Human Rights Council, the body's Special Rapporteur on Torture found aspects of Australia's policies violated the UN Convention Against Torture and other Cruel, Inhuman or Degrading Treatment or Punishment, which Australia signed in 1985.
"I really think Australians are sick of being lectured to by the United Nations, particularly given that we have stopped the boats, and by stopping the boats, we have ended the deaths at sea," Abbott, who won elections in 2013 partly due to his stance on asylum seekers, said in response to the report.
The UN rapporteur, Juan Mendez, found there was substance to allegations that Australia failed to provide adequate detention conditions, end the detention of children, and put a stop to escalating violence and tension at its detention center on Manus Island in Papua New Guinea. Consequently the report concluded Australia had violated the right of people seeking asylum to be free from torture or cruel, inhuman or degrading treatment.
Stopping the boats 'compassionate'
In refuting the report, Abbott said that changing Australia's asylum policies and putting an end to the dangerous people smuggling route in which hundreds of people have drowned trying to reach Australian territory in overcrowded, unseaworthy boats, was the "most humanitarian, the most decent, the most compassionate thing you can do."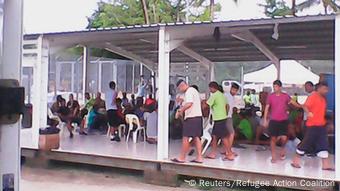 Asylum seekers on Manus Island went on hunger strike earlier this year to protest their treatment
"We have stopped the boats and I think the UN's representatives would have a lot more credibility if they were to give some credit to the Australian government for what we've been able to achieve in this area," Abbott added.
However, despite Australia's policies, the United Nations has reported that available data pointed to 2014 being a record high for people migrating clandestinely by sea worldwide, with almost 350,000 people attempting such risky journeys last year, an estimated 54,000 of those in Southeast Asia.
Abbott also said the conditions on Manus Island were "reasonable under all the circumstances" with people's basic needs of food, clothing, shelter and safety being met.
The director of legal advocacy at Australia's Human Rights Law Center, Daniel Webb, said that although Canberra assured Australians it complied with international human rights obligations, the report suggesed otherwise.
"Being called out as a nation that breaches the Torture Convention should be a wake-up call for Australia. Rather than pursuing costly, cruel and unlawful policies, Australia should work with the United Nations and regional partners to develop safe pathways to protection for refugees," Webb said, lamenting the damage to Australia's international reputation.
Many Australians on social networking site Twitter also expressed their disagreement with Abbott's comments, many using the hashtags #NotInMyName and #IStandWithTheUN, some referring to the current plight of two Australian citizens on death row in Indonesia.
Abbott's comments come weeks after he slammed another report into human rights for asylum seekers, which said that Australia was breaching its international obligations because of the negative effects prolonged immigration detention had on asylum seeker children's mental and physical health.
se/msh (AFP)