Barely two years into the job, Australian Prime Minister Tony Abbott was dramatically ousted on Monday, after a leadership contest by his ruling Liberal Party.
Longtime rival Malcolm Turnbull won a secret party ballot by 54 to 44 votes, and is now set to become the country's fifth prime minister in eight years. The Liberals lead a conservative coalition which swept to victory in the 2013 elections.
Turnbull, a multi-millionaire former banker and tech entrepreneur, called a leadership ballot earlier on Monday, after the party's popularity plummeted since it was voted into office.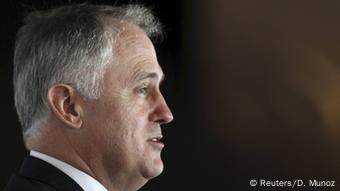 Turnbull, a multi-millionaire former banker and tech entrepreneur, urged the Liberal Party to pick a new leader
At the time, the Liberals were seen as a stable alternative to the then-Labor government, which had lurched from one leadership crisis to another.
Labor came to power in 2007 under Kevin Rudd, who was replaced by his deputy Julia Gillard in 2010. But her bitterly divided and chaotic government then dumped Gillard for Rudd just months before the next poll in 2013.
Abbott, who is described as the country's most socially conservative prime minister in decades, has struggled after the long-booming Australian economy floundered. A series of unpopular policies, including the roll-back of climate change legislation and his opposition to same-sex marriage have also contributed to his plunging voter ratings.
He survived a previous leadership challenge in February over what was seen as his combative and divisive leadership.
Turnbull, 60, had warned that the failure to remove Abbott would see the party lose the next election, which must be held by January 2017, and which is likely to be called some time next year.
Recent polls have consistently found Turnbull more popular with voters than Abbott.
mm/msh (AFP, AP, Reuters)