The possibility was raised during meetings between Australian Foreign Minister Julie Bishop (pictured below), Defence Minister Marise Payne and Indonesian officials including Defence Minister Ryamizard Ryacudu in Jakarta last week.
Ryacudu was cited by the "Sydney Morning Herald" as saying he had proposed a "peace patrol" with Australia. Australia and Indonesia already conduct joint sea patrols in the Timor Sea to combat people smuggling and illegal fishing.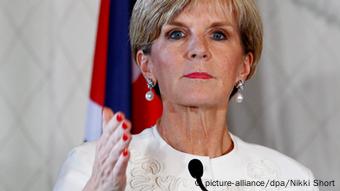 "There are no intentions to disrupt the relationship (with China). It is called a peace patrol, it brings peace. It is about protecting fish in each other's areas," Ryacudu said.
Bishop, meanwhile, said such a move would be "consistent with our policies of exercising our right of freedom of navigation."
"That's in accordance with international law and our support for peace and stability in the region," Bishop told Australian Broadcasting Corp radio.
Australia - a strong ally of the US and with no claims of its own in the area - has been criticized by China for running surveillance flights over disputed islands in the South China Sea - an area where $5 trillion of sea-borne trade transits annually - and supporting US freedom of navigation exercises.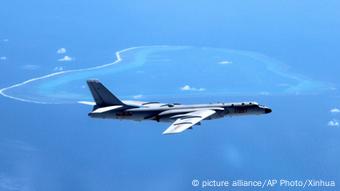 A Chinese H-6K bomber patrols the islands and reefs in the South China Sea
China - which recently told Australia to "speak and act cautiously" on the South China Sea - claims almost the entire sea as its own.
In July, an arbitration court in the Hague said Beijing's claims to the waterway were invalid, after a case was brought by the Philippines.
Beijing, which has built a number of artificial islands with landing strips in the sea, has refused to recognize the ruling. Brunei, Malaysia, the Philippines, Taiwan and Vietnam also have claims on parts of the sea, which also has rich deposits of oil and gas.
Talks on potential joint patrols came amid uncertainty in the region after Philippine President Rodrigo Duterte signaled a shift away from Washington towards Beijing. In June, Indonesian President Joko Widodo toured the islands on a warship, which also signaled China to respect Indonesian sovereignty.
jbh/kl (Reuters, AFP)