FC Augsburg abruptly announced on Saturday that Daniel Opare, a regular starter this season, was not in their squad for Sunday's game against Eintracht Frankfurt. Furthermore, the club said that it had withdrawn its offer of a contract extension for Opare, whose deal expires in summer.
But it didn't end there. Augsburg also said that it had held a private discussion with Opare, telling him that he was free to seek a new employer "in the short term." Under certain circumstances, free agents can join new clubs outside the transfer windows. Augsburg's statement did not go into further detail.
"Daniel Opare has repeatedly lied to us, consciously and despite being confronted with the facts," sporting director Stefan Reuter was quoted as saying. "On top of that, he has repeatedly transgressed against our club's code of conduct."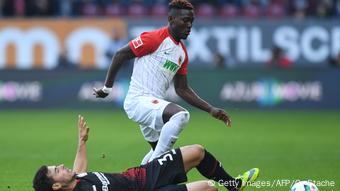 Despite the apparent tension behind the scenes, Opare had claimed a first team spot and performed well this season
Augsburg said that its officials would be willing to offer more information on Opare only after Sunday's match against Frankfurt, saying that their focus was currently on the upcoming Bundesliga fixture.
Unclear which straw broke camel's back
However, Opare was known to be dissatisfied at Augsburg and seeking a new club. He spent deadline day in Leicester, seeking to seal a move to the English Premier League. He had reportedly also engaged in talks with Schalke and RB Leipzig about possible moves within the Bundesliga.
Grainy images of a meeting with Schalke coach Domenico Tedesco at Düsseldorf airport circulated just after the transfer window shut. Schalke's commercial manager Christian Heidel sought to downplay subsequent speculation that it was an unapproved meeting, or that there was any intention for Schalke to purchase Opare in January.
"I discussed it with Stefan Reuter," Heidel said. "Nothing was left hanging. The meeting was neither forbidden nor secret. There is no offer, and currently no decision. It was merely an exchange between Daniel Opare and Schalke 04."
Opare was once considered a player of immense potential, snapped up aged 17 by Real Madrid's junior outfit Castilla in 2008. But he never broke into Real's side, and later enjoyed the best spell of his career during four seasons at Standard Liege in Belgium. Via Porto and Besiktas, he joined Augsburg in 2015.