At the University of the Arts (UdK) on Sunday, visiting professor Ai Weiwei was asked whether he could define art. The 58-year-old Chinese dissident creator leaned back in his chair as if to think.
"I am unable to say anything about this," Ai said, speaking toward the end of an event to begin his tenure at the prestigious Berlin art school. The audience applauded Ai's statement as he sat onstage alongside various other faculty members, and he appeared to keep on mulling it over.
"It's a bit like with sex," Ai told the audience when they had quieted again. "One can have a lot of experience, and nevertheless find it extremely difficult to define."
With that, the official introductory event came to an end. In addition to his comment defining art, and by extension sex, Ai had told the audience that he was looking forward to the challenges of three years of public contact as a visiting professor and that he appreciated the school's open and democratic environment.
Ai also discussed his work, the art scene in modern China and the contemporary market. He told the audience that he takes about 50,000 photographs a year and even snapped one at the event.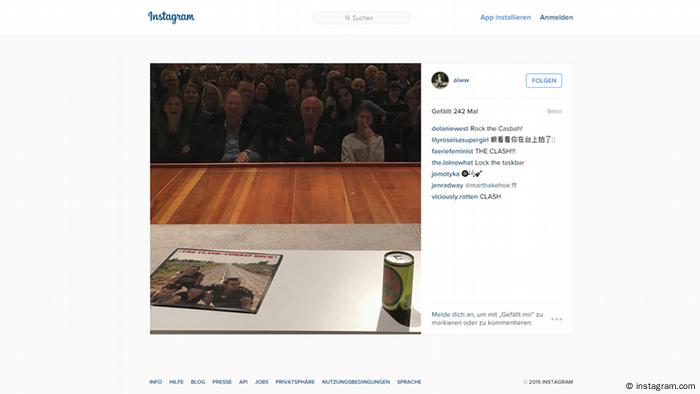 Ai multitasked at Sunday's event
'In and out'
In August, China permitted Ai - famous among other things for his work on the Beijing National Stadium ahead of the 2008 Summer Olympics - to leave the country for the first time in three years to take up his post as Einstein visiting professor at the UdK. China limited his travel immediately after he served a three-month prison sentence in 2011 for tax evasion. Nevertheless, Ai has said that China would remain his home.
"I intend to travel back and forth, provided they let me in and out again," Ai said last week. "I am not in control of that." He said he had already travelled to Beijing from Berlin once in October.
Ai has selected 16 students from about 100 applicants with knowledge of media, design and fashion, among other things. The dissident, who has repeatedly criticized China's human rights record, has said that he would not necessarily focus on politics during his time in Berlin, though he does plan on doing some work focused on refugees.
"I will be teaching art," Ai said last week. "Of course these questions are in me, but I do not intend to put my students under pressure with them. Everyone has the right to decide for themselves on their principles."
mkg/cmk (dpa, AP, epd, UdK)
Have something to say? Share your comments below. Discussions are closed after 24 hours.