After thousands of protesters blocked roads and interrupted train services in Armenia's capital of Yerevan on Wednesday, protest leader Nikol Pashinian urged the anti-government demonstrators to pause protests on Thursday.
The one-day timeout should allow Pashinian to consult his fellow lawmakers as part of his push towards becoming prime minister.
"Kids, you are going to school tomorrow," Pashinian told a crowd in Yerevan. "Tomorrow, we will be working in parliament."
Armenian parliament, which is dominated by deputies from the party of long-time president Serzh Sargsyan, rejected Pashinian's initial bid on Tuesday. On Wednesday, however, ruling party officials said they would back the candidate who won one-third of the vote, signaling a change of heart on widely popular Pashinian. The move is in accordance with Armenia's constitution, which requires a party that does not have its own candidate to vote for a candidate who gains at least one-third of lawmakers' votes.
Pashinian confident in victory
Speaking to his supporters on Wednesday, Pashinian said that the issue "has practically been solved."
"All factions said they would support my candidacy," he added.
Read more: Nikol Pashinian, the man behind Armenia's protest movement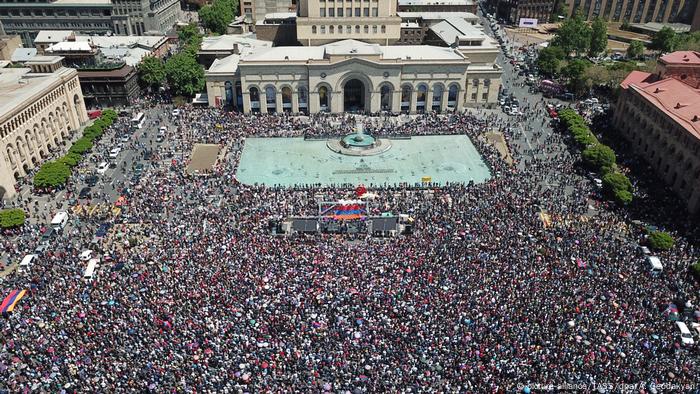 Armenia has seen protesters block government building in Yerevan and cut roads leading to Iran and Georgia
Armenia was plunged into unrest on April 13, when Sargsyan attempted to hold on to power by switching his presidential office for a PM post. Sargsyan soon resigned under the wave of protests.
Parliament is set to hold its second vote on the next prime minister on Tuesday. If lawmakers fail to elect a prime minister, the legislature would be dissolved and early elections called.
Pashinian called for a massive rally next Tuesday to "seal our victory."
dj/sms (AFP, Interfax, Reuters, AP)