In a latest Arabic-language online video, whose authenticity could not be confirmed, a number of Islamists hail Abu Bakr al-Baghdadi, the leader of the Middle Eastern jihadist group Islamic State (IS).
According to the SITE intelligence group, former Pakistani Taliban spokesman Shahidullah Shahid can be viewed announcing pledges of allegiance to IS on behalf of leaders of various extremist groups in Afghanistan and Pakistan.
"We want to inform you that we have brought together the emirs (leaders) of 10 groups who want to pledge their allegiance to the Caliph Abu Bakr al-Baghdadi," he said, referring to the IS leader.
At the end of the 16-minute video, the jihadists slaughter what some experts believe is a Pakistani soldier.
In the past few months, a number of reports have emerged hinting at the increasing links between IS and the Pakistani militant groups. The new video will certainly add to the speculation that IS is gaining influence in South Asia, particularly in Afghanistan and Pakistan.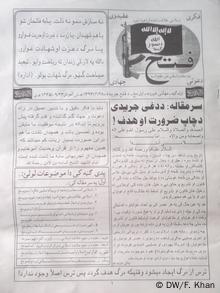 IS pamphlets were distributed in a number of Pakistani and Afghan towns
IS seeks supporters in Pakistan
In September 2014, Faridullah Khan, a DW correspondent in the Pakistani city of Peshawar, confirmed the IS was looking to gain influence in the nuclear-armed Islamic country. The group distributed pamphlets in a number of northwestern Pakistani towns and some provinces of Afghanistan, he said. In the pamphlet, IS made an appeal to the local population to support its "struggle for the establishment of an Islamic caliphate."
"The pamphlets, which are written in Pashtu and Farsi, say that IS wants to establish an Islamic caliphate which would also include some Central Asian countries, Iran, Afghanistan and Pakistan," Khan reported from Peshawar, adding that some factions of the Pakistani Taliban were contemplating forging a formal alliance with the Middle Eastern militant group.
The Pakistani daily, The Express Tribune, also wrote in a September 3 article that "a number of hard-line groups operating in Pakistan and Afghanistan have already announced support for the group (IS)."
'Unlikely'
But some experts believe that while there could be some cooperation between IS and the Afghan and Pakistani Taliban, a proper alliance between the two extremist groups is "highly unlikely."
"There are certainly ideological convergences between the two groups, but otherwise there are simply too many factors that constrain the possibility of a partnership, much less a close alliance," Michael Kugelman, Afghanistan expert at the Washington-based Woodrow Wilson Center for Scholars, told DW.
"First, the Afghan Taliban is chiefly an insurgent group seeking to overthrow the Afghan government. By contrast, IS is a savagely violent expansionist organization that aims to establish an Islamic caliphate. This is a very different, more ambitious, and more extreme end goal from that of the Taliban," he added.
Kugelman also says the close connections between the Afghan Taliban and al Qaeda cannot be ignored. "It seems unlikely that the Taliban would want to join forces with an organization that split from its ally, al Qaeda."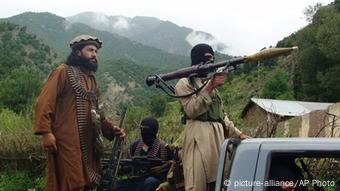 The Taliban and Islamic State are not similar organizations, say experts
Arif Rafiq, a scholar at the Washington-based Middle East Institute, believes that the prime threats to Afghanistan and Pakistan come from their respective Taliban insurgent groups and not IS. "IS is an imminent threat in Iraq, Syria, and perhaps even neighboring states. Kabul and Islamabad do not need to detour significant resources toward an IS threat that remains largely hypothetical and media-driven with respect to South Asia."
The analyst says it is easy to print out pamphlets and clandestinely distribute them out in any city in Pakistan. "Most likely, the individuals involved were associated with small Salafist groups. They are not indicative of a meaningful IS presence in Pakistan or a turn in that direction," Rafiq points out.
Rodger Shanahan, a non-resident fellow at Sydney-based Lowy Institute for International Policy, also rules out the possibility of an IS-Taliban joint venture. "IS has declared that it rules a caliphate and has its own caliph. Traditionally, it would expect groups to subordinate themselves to it by offering their loyalty to the caliph. There is no way that the Taliban would do this."
Pakistan - an ideal country for IS?
Kugelman, however, fears that the conditions are ripe for a potential penetration of IS in Pakistan. "It is a country that has the presence of both hard-line ideological capital and militant groups that could encourage IS infiltration. Additionally, Pakistan suffers from the same kind of sectarian cleavages that have allowed the virulently anti-Shiite IS to exploit and deepen its influence in the Middle East."
"There are various indications that IS could have some Pakistanis within its midst. A chief one was the revelation - albeit one that remains unconfirmed - that a top Islamic State leader killed in an Iraqi airstrike last year was from Pakistan, and had been based in Pakistan," said Kugelman.
Moreover, a number of experts claim that a large number of Pakistanis are supportive of the IS caliphate views.
Kugelman: 'Pakistan's decision to launch a military offensive in North Waziristan was rooted, to some extent, in concern about IS' rapid expansion in the Middle East'
"The IS ideology finds resonance in Pakistan. There are umpteen religious groups that openly endorse it; however, they are quite small in size. But I fear that IS could still count on their backing," Peshawar-based expert, Iqbal Khattak, told DW.
But Kugelman says the main worry is not that IS will establish itself in Pakistan, but rather that Pakistani militants will strengthen IS in its Middle East-based bastion.
Kabul and Islamabad 'aware' of the threat
Experts point out, however, that a potential IS-Taliban nexus would be devastating for the entire South Asian region.
"It would be a nightmare scenario of epic proportions. You would essentially have one of the most terrifying militant groups to emerge in decades (and perhaps ever) joining forces with another formidable fundamentalist force," said Kugelman. "But the good news is that nightmare scenarios rarely come true - and I think that will be the case here. Any nexus between the two groups will likely be ideological, and not operational or tactical."
The Washington-based expert adds that both Islamabad and Kabul are aware of the threat. "I would actually argue that Pakistan's decision to launch a long-awaited military offensive in North Waziristan was rooted, to some extent, in concern about IS' rapid expansion in the Middle East. Afghanistan's government is aware of the threat as well, though like the Pakistani government, it has more immediate threats - such as a local insurgency and acute political crises - to deal with at the moment."
But Pakistani analyst Khattak says that military operations alone won't solve the problem. "It is extremely important for the Pakistani state to invest in the welfare of common people and launch development programs to eradicate poverty and discourage people from joining the ranks of extremist outfits," he said. "Until then, anything is possible in Pakistan and Afghanistan," he added.