Linear television, it seems, is dying a very slow death. While Americans have long gotten used to watching whatever they want, whenever they want, Germans are slower to change their TV habits. But the streaming market is steadily growing and will have a new player to keep things moving when Netflix launches in Germany - along with France, Austria, Switzerland, Belgium, and Luxembourg - in mid-September.
While Netflix, which was founded in 1997 as a DVD-by-mail service, is already the market leader in the US and says it has 50 million subscribers in more than 40 countries, the move to start in continental Europe is not without risks.
While Americans already spend more than 9 euros per capita per year on video via Internet, Germans only spend 1.60 euros, according to the International Video Federation. Nevertheless, the market is clearly growing, with transactions via streaming up by 56 percent in 2012 - the most recent statistics available.
Pie divided into thin slices
While Netflix already has sundry competitors - like Maxdome, Watchever, Amazon, and Apple - they don't yet seem too concerned. While consumers' interest in streaming may grow automatically with the times, Netflix's digital offerings remain relatively slim. The exclusive rights to some of Germany's most popular shows have already been scooped up.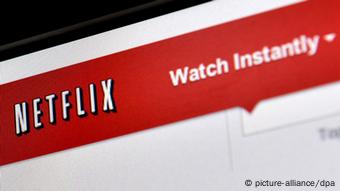 Netflix was one-of-a-kind when it started in the US
Pay-TV channel Sky, for example, owns the exclusive broadcast rights to the political satire "House of Cards" and the fantasy drama "Game of Thrones." Sky subscribers don't get to watch "Breaking Bad," though, because that's owned by Maxdome.
Since Germans are used to watching dubbed programs - unlike in the UK and Scandinavia, where Netflix is already on offer - Netflix can't broadcast content straight from the US, but is bound by the contracts already signed for the German-language versions. Many of these include a no-streaming clause. That, at least, makes things difficult for all of Germany's streaming services.
What do Germans watch?
With its new Fire TV streaming box, Amazon sprung onto the scene at the right time. After its Germany launch last week, the devices were discounted from 99 to just 49 euros ($63) and sold out within just a few hours. Customers will also get a discounted eight-euro monthly subscription to Maxdome's or Watchever's streaming service and - rumor has it - to Netflix's as well.
If Netflix CEO Reed Hastings has his way, the California-based company won't settle for staying a small player. The secret to success, he says, is understanding what Germans want to watch. "If we see that Germans like films with motorcycles in them, then we need more of those," Hastings said in an interview with weekly news magazine "Der Spiegel."
Ironically, the best sources on viewers' taste are often the illegal download sites.
Too late in Germany?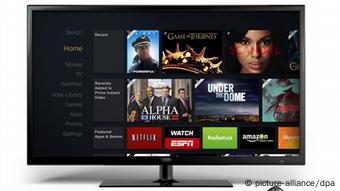 Amazon Fire TV brings together many different streaming options
While young TV viewers in Germany are turning more and more to streaming, the overall viewing behavior in the aging country won't shift as quickly as it has in the US, where Netflix was the first streaming service on the market.
Germany already has a strongly dichotomized market with two public linear broadcasters on the one hand, which are financed by a mandatory license fee for all television owners, and a handful of private broadcaster on the other, paid for by commercials. These stations already offer a wide spectrum of content that's freely accessible - even if it is linear.
After all, in a country of 82 million people, some 10 million still tune in every Sunday at 8:15 p.m. to the classic German-made crime show "Tatort" ("Crime Scene"). Some linear TV traditions may stick around for a while.