Five Chinese environmental groups have accused the American technology giant Apple of turning a blind eye to massive environmental pollution caused by its Chinese suppliers. The companies are accused of releasing poisonous gasses into the environment and contaminating water with heavy metals and dioxins.
In one case, the number of people suffering in a village located close to a factory thought to supply Apple is said to have grown considerably. Moreover, the concentration of heavy metals in a close-by lake has increased to almost more than 200 times the normal amount.
Prominent environmentalist Ma Jun, the founder of the Institute of Public Affairs (IPE) and one of the main authors of the report said on Thursday that in certain cases the problems had been known for years.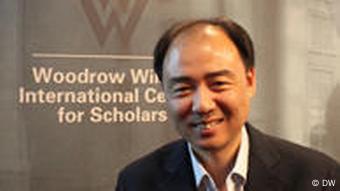 Environmentalist Ma Jun says loopholes work in favor of multinationals
"Apple has refused to discuss publicly available data about environmental contamination by these companies and insists that it will not make its list of suppliers public," he said. "They are exploiting the fact that environmental monitoring in our country has its loopholes, and yet they continue to work with these companies despite this. They are making massive profits at the cost of the environment and the interests of the local population."
Pressure on manufacturers
After five months of fact-finding, the environmental groups came up with a list of 27 companies which are most probably manufacturing for Apple, including firms in Beijing, Guangzhou and in the southwestern city of Chengdu.
There have been several attempts in the past to pressurize these companies, said Ma Jun but he added that Apple also had to take responsibility for its suppliers.
"For these big companies contracting out to Chinese firms, it is only a matter of cost, they don't care about the environment at all. The pressure is then transferred to the manufacturers, to lower their environmental standards and reduce costs so that they get the contracts in the first place."
Apple rejects allegations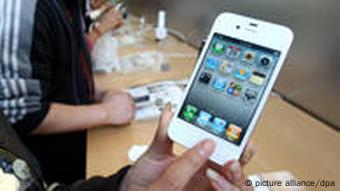 iPhones are increasingly popular among China's middle classes
Apple has rejected the allegations. A spokeswoman for the firm told AFP that the company expected "all suppliers to provide safe working conditions, treat workers with dignity and use environmentally responsible manufacturing processes wherever Apple products are made."
And in an unsigned email sent to the IPE, Apple, which does not disclose its suppliers, said it had found "discrepancies" in the report released by the Chinese environmental groups, saying that several of the named suppliers listed were not in Apple's supply chain.
The IPE accuses Apple of failing to respond adequately to similar allegations in January. Apple is not the only company to have been accused of turning a blind eye to its suppliers' practices. In July, Greenpeace accused a number of European and American textile and sportswear companies of releasing toxic substances into rivers and lakes.
Author: Ruth Kirchner / mg
Editor: Anne Thomas