German rapper Kollegah clearly distanced himself from his controversial lyrics on his latest album with Farid Bang.
"I will never use words like those again," the hip-hop artist said in an interview with Stern magazine this week, adding that after visiting the Auschwitz concentration camp not too long ago, he and Farid Bang realized how offensive their lyrics really were.
'Disturbing experience'
The musician says the visit changed him, and that it was a "disturbing experience" that clarified a lot.
He said that he could never forget now that he's seen with his own eyes where human beings were gassed in the factory of death. It has made him "more cautious, and respectful."
Read more: Why gangsta rap's aggro style appeals to the masses
The International Auschwitz Committee had invited Kollegah and Farid Bang to visit the Auschwitz-Birkenau Memorial in the wake of a controversy surrounding the two rappers.
They were accused of anti-Semitism for lyrics such as "My body is more defined than those of Auschwitz inmates" and "Create another Holocaust."
The controversy over the lyrics had peaked when their album Jung, Brutal, Gutaussehend 3, (Young, brutal, good looking 3) won an Echo Music Award, Germany's top music prize.
The prize has since been entirely scrappeddue to massive outrage over the choice.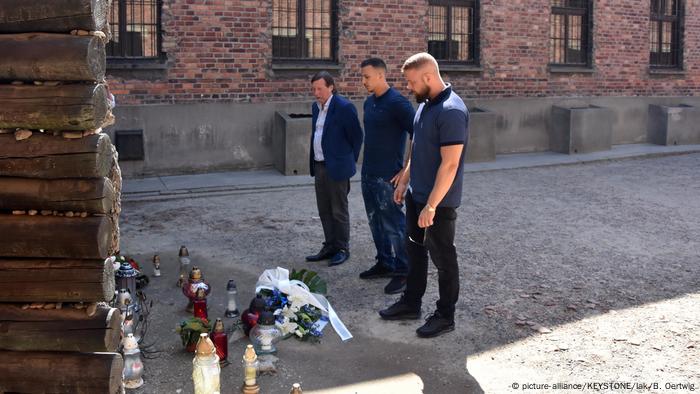 "Negative vibes": Seeing Auschwitz with his own eyes changed him, says rapper Kollegah
Humbling visit
The rappers visited the concentration camp privately and without media fanfare in summer.
"I stand for tolerance and am opposed to racist and religious prejudice," the 34-year-old musician told Stern, adding that perhaps provocation is a thing of the past for him. His visit has made him think twice before just simply rapping something.
Farid Bang apologized for the lyrics, saying he and Kollegah distanced themselves from "any and all forms of anti-Semitism and hate against minorities."
More than 1 million people were killed by Nazi Germany at the Auschwitz-Birkenau concentration camp during World War II, the majority of them Jews.