In at least 33 of Africa's 55 states, homosexuality is illegal. In Mauritania, Sudan and parts of Nigeria and Somalia, it can be punishable by death. And while last week's shooting in a gay nightclub in the US city of Orlando, Florida, killing 49 people, has put LGBT rights back in the spotlight, it is also a reminder of the community's struggle around the world. Across Africa, LGBT people are increasingly afraid of violence, persecution and discrimination.
On Thursday, a Kenyan court rejected a bid to outlaw anal examinations on people suspected to be gay. According to Kenyan law, authorities can force the examinations on people to try to prove they have had gay sex, a practice when rights groups describe as "abhorrent" and "degrading." Although prosecutions are rare, being gay can carry a prison sentence of up to 14 years in the East African country.
The bid was brought by two men charged with having gay sex. They deny the charges and told the court that they had been coerced into having anal examinations by security staff and a public hospital in Mombasa. But high court judge Matthew Emukule said Kenyan law allowed for intrusion into the human body for the purpose of gathering evidence to prove a sexually related crime.
Amnesty International condemned the ruling, saying it was "shocking in its disregard for international human rights obligations." New York-based Human Rights Watch has said the examinations might amount to torture under international law.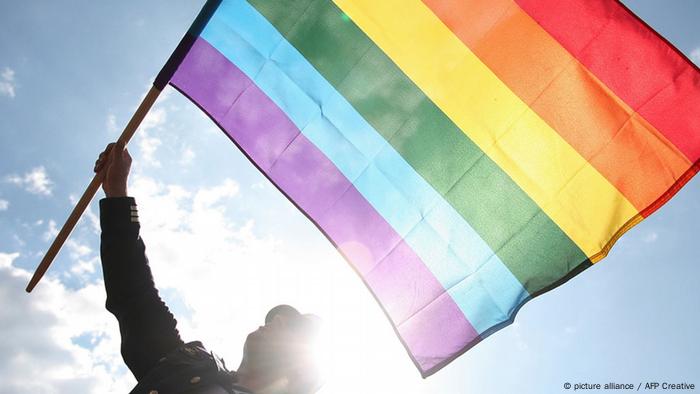 Rights for lesbian, gay, bisexual, transgender and intersex people (LGBTI) are diminishing accross Africa
Persecution in Africa, 'hypocrisy' in the West
In Uganda, too, activists are warning of rising homophobia and intolerance. Kasha Jacqueline Nabagesera, the editor of Uganda's only gay and lesbian publication, "Bombastic," says she lives in constant fear. Speaking at DW's Global Media Forum this week, she said she could "not walk on the streets of Kampala" and does not use public transport in order to avoid attacks if someone recognizes her. She has received death threats for distributing the glossy magazine, which she has made available for free because "no one is going to buy something like that with their little bit of hard-earned money."
To this end, she receives financial help from international allies - in the hope of sparking a change in attitudes in Uganda's highly volatile climate against homosexuals. But Nabagesera said she sees a "hypocrisy" in support from Western partners.
"When they sign agreements to deliver aid, they often make LGBT rights a requirement. But when our people seek asylum and peace in their countries, they turn us down. They are pushing us back into the closet to suffocate," Nabagesera told DW, citing examples of gay refugees that have been sent back to their home countries, despite fearing for their lives.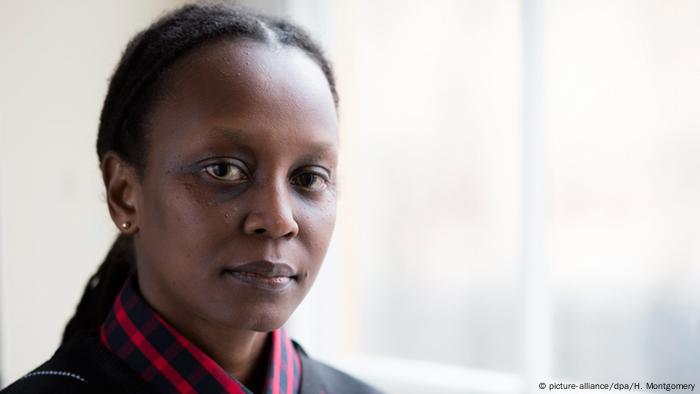 Kasha Jacqueline Nabagesera says she has to deal with hate mail on a daily basis
Cameroon considers tougher anti-gay laws
Elsewhere in Africa, the West's support for LGBT rights has led to criticism among supporters of laws banning homosexuality.
If we should open up to every thing that comes from the West, we are, in other words, selling our culture, selling our originality and selling what we are," Cameroon businesswoman Emmanuella Suh told DW. "Of course they are human beings but if they want to practice let them do so elsewhere, outside of Cameroon," she said. "Cameroon does not welcome [homosexuality] because it goes against our beliefs, it goes against our traditions."
She is not alone in her views. As Cameroon revises its 50-year old penal code, the country's parliament is considering tightening its laws banning homosexuality. A debate on Friday ended without a decision, but parliament is set to continue the discussion over the weekend.
In the run up to the parliamentary review, the Cameroon Association for the Defense of Homosexuality and gay rights lawyers have been urging that members of LGBT communities should be protected from prosecution solely on the grounds of their sexual orientation as a basic human right.
Member of parliament Joseph Banadzem says that is not likely to happen. "The law is still very hostile to gay marriage and as a whole homosexuality," he told DW, explaining that the penal code states sexual relations with a person of the same sex are punishable by imprisonment for six months to five years and a fine of 20,000 to 200,000 Cameroonian francs ($40 - 400, or 35 - 350 euros).
Banadzem said that none of the political parties in the Cameroonian parliament were opposing the provisions outlined in this law.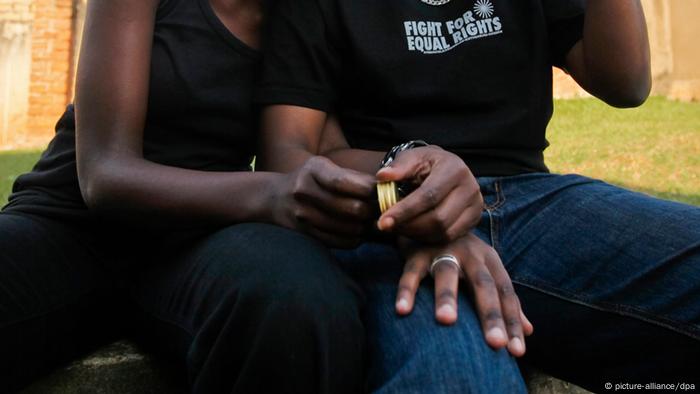 Uganda's broadly worded law also bans what it calls the 'pomotion of homosexuality'
'We are not free'
Nkom Alice, a 68-year-old gay rights activist says the law promotes torture, forced confessions, and denial of access to legal counsel. It also encourages the discrimination against LGBT people, she said. "Even if you complain, the authorities will do nothing - just because you are gay or you are supposed to be defending gay people," she told DW. "Our constitution says the state must protect all private lives. But we are not free in our country. We are afraid because we are not backed by our state and the authorities in our state, which is going against its own commitment to protect all citizens."
Gay rights activists in Cameroon have died under suspicious circumstances on several occasions.
Cameroon was among a number of countries that blocked the accreditation of 22 gay and transgender groups at a UN AIDS conference earlier this month. Under UN rules, any UN member country can veto the participation of any non-governmental organization without providing a reason.
Observers in Cameroon say a change in the law is unlikely.
Sertan Sanderson in Bonn contributed to this report.