The countries going through to the final are Ukraine, Slovenia, Sweden, Hungary, Australia, the Netherlands, Moldova, Denmark, Serbia and Norway.
Those dropping out of the contest are Montenegro, Latvia, Malta, Poland, Georgia, Russia, San Marino and Romania. It is the first time since 2000 that Russia has not reached the final.
The decision was determined with the vote of international juries and call-in votes of television audiences in the participating countries weighing in in equal parts. Followed by a sold-out audience in Lisbon's Altice Arena, the show also gave audiences a chance to see the productions of Germany, France and Italy, who — along with Great Britain and Spain — constitute the "big five." Because of their greater contributions to the European Broadcasting Union (EBU), these countries skip the semifinal selection process and have a permanent place in the final.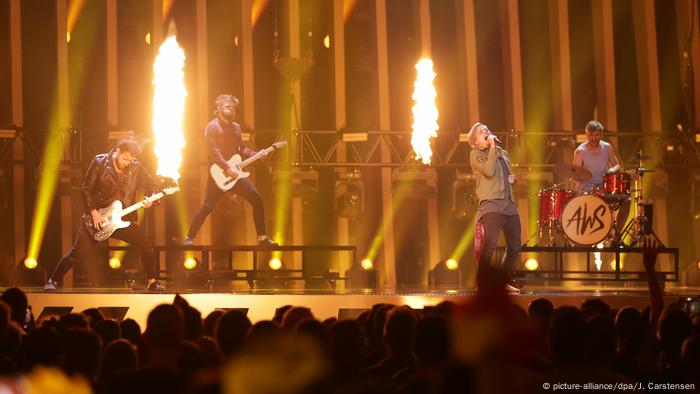 Headbanging rock with a serious message and plumes of flame: AWS from Hungary
Strong performances, fewer gimmicks
The second semifinal was another evening of mostly strong musical entries and few blatant showy gimmicks. This time, there was no LED wall but instead more conservative imagery with props, lighting effects, sparklers and many plumes of flame.
The show opened with Norway's Alexander Rybak performing "That's How You Write a Song." Coincidentally or not, the entry was the 1,500th song performance in the Eurovision Song Contest's 63-year-history. Rybak, a former Eurovison winner, is a serious contender this year as well.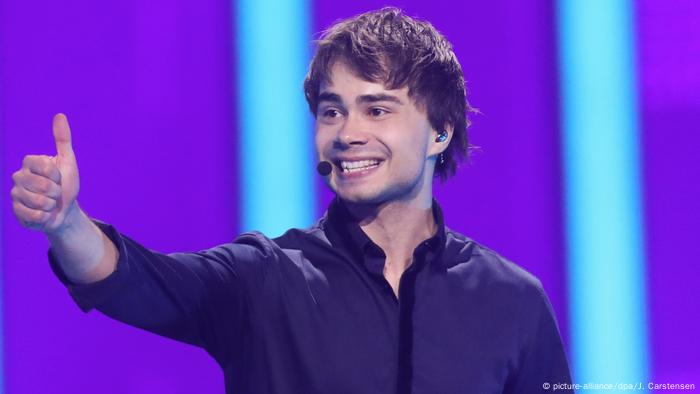 Norway's Alexander Rybak exudes confidence
Neighboring country Sweden unsurprisingly took the hurdle with "Dance You Off" by Benjamin Ingrosso, who delivered wide grins, a catchy melody and smart dance before a backdrop of horizontal strips of light. Denmark's Rasmussen sang a seafaring ditty in "Higher Ground."
Ukraine's Melovin played piano on a platform with many plumes of fire in "Under The Ladder," while the commodity of Hungary's AWS was solid metal. The five-piece band started as teenagers in 2006. With lyrics in the native tongue, they support anti-celebrity culture. Though their song "Viszlat nyar" exuded energy, the lyrics were an unvarnished "Dreams all gone, thanks for fading away…"
From ethno to country rock
Slovenia's Lea Sirk, who has played flute in classical orchestras, delivered ethno rap at a breakneck clip in "Hvala, ne." At one point, the background music stopped and she begged the audience to help get things going again. The gag worked.
Waylon — who comes from the Netherlands and whose role model is Waylon Jennings — delivered foot-stamping country rock in "Outlaw In 'Em," while Australia's Jessica Mauboy sang a straightforward "We Got Love"-song. Australia and Ukraine are now the two countries in Eurovision history that have always gone on to the final round.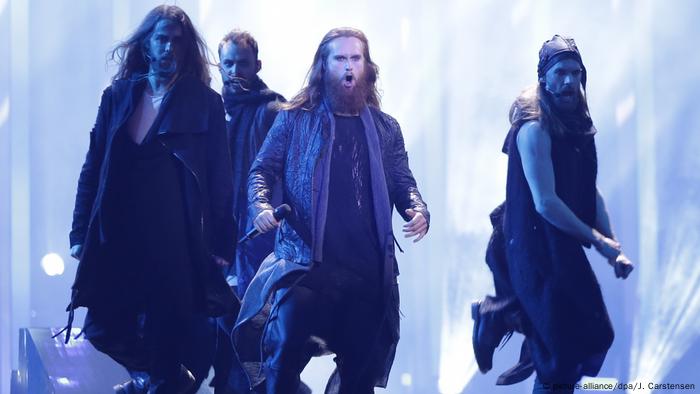 A seafaring ditty from Denmark's Rasmussen
"My Lucky Day" feeds off a crazy and exuberant Mediterranean sound from Moldova's DoReDoS. For Sanja Ilic and Balkanika from Serbia, the semifinal win was a further Eurovision triumph. The group, who incorporate Balkan elements into their music, also took part in the 1982 contest. Their dreamy entry this time is titled "Nova deca."
At a press conference earlier in the day, RTP (Portuguese Public Broadcasting) Executive Producer Joao Nuno Nogueira described Eurovision as "the longest-running, most valued and most challenging television show in the world," and said that 1,162 professionals had worked on this year's contest. Drawing 70,000 visitors to Lisbon, this year's edition was the least expensive one since 2008, with an overall budget of 20.1 million euros ($24 million). With an estimated television audience of 180 million, it is the world's biggest entertainment show.