"The European Union's pressure on Italy to 'get tough' on refugees and migrants has led to unlawful expulsions and ill-treatment which in some cases may amount to torture," Amnesty wrote in a report.
"In their determination to reduce the onward movement of refugees and migrants to other member states, EU leaders have driven the Italian authorities to the limits -- and beyond -- of what is legal," said Matteo de Bellis, Amnesty International's Italy researcher."The result is that traumatized people, arriving in Italy after harrowing journeys, are being subjected to flawed assessments and in some instances appalling abuse at the hands of the police, as well as unlawful expulsions," he was quoted as saying.
The hotspot approach
Italy adopted an approach that sought to separate asylum-seekers from economic migrants as soon as possible. This has meant police quizzing new arrivals without providing them with psychological support for traumas suffered during the journey or advice on asylum procedures.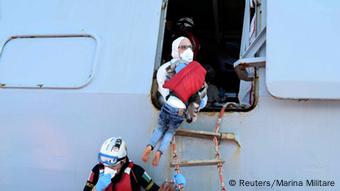 The so-called "hotspot approach" for processing people, which requires Italy to fingerprint incomers to prevent them from claiming asylum elsewhere, has seen minors abused, according to testimony from 170 migrants. Of the 24 reports of ill-treatment Amnesty gathered, 16 involved beatings. In several cases, people also said they had been given electric shocks with stun batons.
One 16-year-old said police had inflicted pain on his genitals, while a 27-year-old told Amnesty that officers had beaten and electric-shocked him before making him strip and using a pair of three-pronged pliers on him. "I was on a chair made of aluminum, with an opening on the seat. They held [my] shoulders and legs, took my testicles with the pliers and pulled twice," he said.
Some migrants do not want to be finger-printed as they hope to continue on to an EU-nation of their choosing and apply for asylum.
Europe has seen an influx of over 1 million migrants and asylum seekers fleeing war and poverty.
The Italian Interior Ministry had no immediate comment on the Amnesty report.
Over the past three years more than 470,000 migrants, mainly from sub-Saharan Africa, have reached Italy by boat. Thousands have also died making the dangerous crossing, including at least 3,750 this year alone.
jbh/kl (AFP, Reuters)