Tunisian Prime Minister Habib Essid announced Sunday that Abou Sakhr Lokman, one of the leading suspects in the Tunis museum attack, was killed in an operation in the Gafsa region near Tunisian's Algerian border on Saturday night.
Lokman is believed to be a prominent militant active in al Qaeda's North African arm and is being held responsible by Tunisian authorities for the deaths of 22 people, including many foreign tourists and two gunmen, in the March 18 attack on the National Bardo Museum in Tunis.
Just before Essid made the announcement, a march had begun from central Tunis to the Bardo Museum. The three-kilometer march, protected by hundreds of security, was to be joined by world leaders, among them French President Francois Hollande.
Hollande, Italian Prime Minister Matteo Renzi and a number of foreign ministers from other countries were set to join an anti-terrorism ceremony in Tunis after the march through the capital ended.
The international visitors said they wanted to "show solidarity" with Tunisia, where the nascent democracy was shaken by the Bardo attack - for which the self-proclaimed Sunni militant group "Islamic State" (IS) group initially claimed responsibility.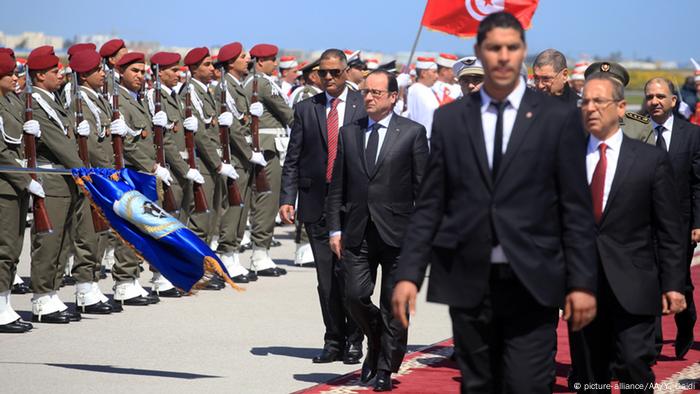 A number of dignitaries were in Tunis to express solidarity with the Tunisian people
Source of Arab Spring
In January 2011, Tunisian protesters unleashed revolts widely seen as the beginning of the "Arab Spring," and Tunisia is the only country to have built a democratic system as a result.
Still, authorities continue to struggle with sporadic extremist violence linked to various radical Islamist groups, largely linked to neighboring Algeria and Libya.
Interior Ministry spokesman Ali Aroui said earlier on Sunday that nine suspected "terrorists" were killed when security forces clashed with suspects in the southwest region of Sidi Aich, near the Algerian border. He also said several extremists were wounded in another clash in the northwest region of Kef, as part of security operations around the country ahead of the march.
glb/sb (Reuters, AP, AFP)