The controversy in India about Amazon selling "national flag doormats" hadn't really settled when the global online retailer found itself embroiled in a new contention over "Gandhi flip-flops."
The pink flip-flops, emblazoned with the face of India's independence leader Mahatma Gandhi, cost 16 euros ($16.99) on Amazon. The company's website describes the product as "professionally printed" and something which "will look great and make someone smile."
Has Amazon crossed a line?
Many Indians are expressing their anger at Amazon on social media, calling on India's foreign ministry to take "strict action" against the e-commerce giant that plans to invest over five billion dollars in the South Asian country over the next few years.
Shaktikanta Das, India's economic affairs secretary, warned Amazon that its intolerance towards Indian sensitivities could be perilous.
"Amazon better behave. Desist from being flippant about Indian symbols and icons. Indifference will be at your own peril," Das tweeted on Sunday.
Reactions came in thick and fast following Amazon's second "transgression."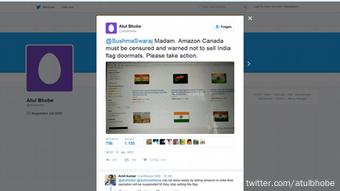 Angry protests forced the e-retailer to withdraw controversial doormats from the online marketplace
"This is absolutely outrageous. Degrading Gandhi by placing his image on a flip-flop is unacceptable. The government must take action against Amazon," Sharad Shukla, an apparel retailer in New Delhi, told DW.
Politicians, too, were very quick to condemn the e-commerce company.
"First, it dishonored the national flag, and then Amazon insulted our national icon that we hold very dear," said Varun Das, a political worker belonging to the opposition Congress party.
"This is most unfortunate and people will ostracize this move. A social boycott will follow. This kind of humiliation will not be tolerated," said Shaina N.C., a spokesperson for the ruling Bharatiya Janata Party.
After the flag doormat controversy last week, Sushma Swaraj, India's foreign minister, demanded an apology from Amazon and threatened to cancel the visas for Amazon officials working in India.
'Disrespect'
According to the 1971 Prevention of Insults to National Honor Act, "disrespect" to the national flag is a punishable offense in India and the offender can be jailed for up to three years.
"As a follow up to the matter regarding the sale of doormats with the Indian flag on Amazon, our ambassador in Washington has been instructed to convey to Amazon that while providing a platform for third party vendors, they should respect Indian sensitivities and sentiments," the foreign ministry said in a statement.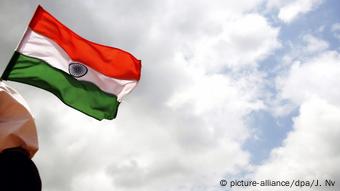 'Disrespect' to the national flag is a punishable offence in India
Angry protests by rightwing groups forced the e-retailer to withdraw controversial articles from the online marketplace. Amazon's vice president in India, Amit Agarwal, promptly issued an apology stating it was never the company's intention "to offend Indian sentiments." Agarwal also clarified that the doormats had been offered to Amazon by a third-party seller on its Canadian website.
But the flip-flops issue rendered that apology meaningless.
There has been no official word from the company on the "Gandhi flip-flops" but it has been learnt that the products have been removed.
This is not the first time that Amazon has stirred controversy in India. In 2014, the company sold women's leggings with pictures of various Hindu gods printed on them. Prior to that, it also sold doormats carrying the images of Hindu goddesses.
Nationalistic sentiment on the rise
But some experts say that regardless of the Amazon controversy, the nationalistic and rightwing sentiment is gaining momentum in India under Prime Minister Narendra Modi's government.
Last month, a controversial ruling by India's Supreme Court mandated all cinema halls nationwide to play the national anthem before screening movies and everyone in attendance is required to stand.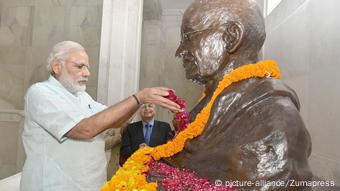 Critics say that a rigid brand of nationalism has been gaining strength since PM Modi came to power
Indian authorities have arrested around 20 people for not abiding by the top court's decision over playing the national anthem in cinemas.
"It is a very good decision. It will impart a sense of patriotism among people, particularly the younger generation. I am pleased with it," said Venkiah Naidu, the minister for information and broadcasting.
Critics say the Supreme Court ruling would further embolden rightwing Hindu groups to push ahead with their rigid brand of nationalism, which has been gaining strength since PM Modi came to power in May 2014. They fear that vigilante groups will take matters into their own hands and impose the court's directive in cinema halls in their own way.