A rescue official in neighboring Niger said on Sunday that nearly 600 African migrants in Algeria were abandoned in the desert with hardly any food or water before being rescued.
This comes after a report from a UN migration official who said on Saturday that Algeria's government has resumed expelling migrants into the Sahara Desert. Recently they left 391 people in some of the world's most hostile terrain in the middle of summer when temperatures can reach over 40 degrees Celsius (104 Fahrenheit).
According to a tweet from Giuseppe Loprete, the head of the UN's International Organization for Migration (IOM) in Niger, migrants from 16 different countries were abandoned at the border with Niger.
Last month, the Associated Press reported that Algeria has left more than 13,000 migrants in the desert of Niger and Mali since May 2017, forcing them to walk or die in the searing heat.
After the AP report came out, the expulsions appeared to have been suspended. IOM in Mali said the normally secretive Algerian government seemed to be trying to make an effort to communicate the movement of the migrants.
An aid worker with contacts inside Algeria told AP the government was rounding up migrants and putting them in detention centers. IOM has been forced to find the migrants as they stumble through the desert, and many said some of their companions died along the way.
Algeria has an agreement with Niger's government to deport its citizens by convoy directly to the city of Agadez. However, migrants from other countries who have been rounded up in repeated sweeps are moved by trucks to around 15 kilometers (9 miles) from the nearest water source and forced to march to Niger.
Algerian anger
Algeria criticized the UN agency for its comments on the migrants.
"What the IOM is not saying is that it does not do anything to help them [when they are in Algeria]. It is Algeria that provides them with assistance by distributing food kits and water," said Interior Ministry official Hassen Kacimi, who added that Algeria has suggested the IOM set up a system in Assamaka, a Nigerien town about 15 kilometers from the border, to rescue migrants prevented from returning to Algeria, but "the IOM is completely absent on this".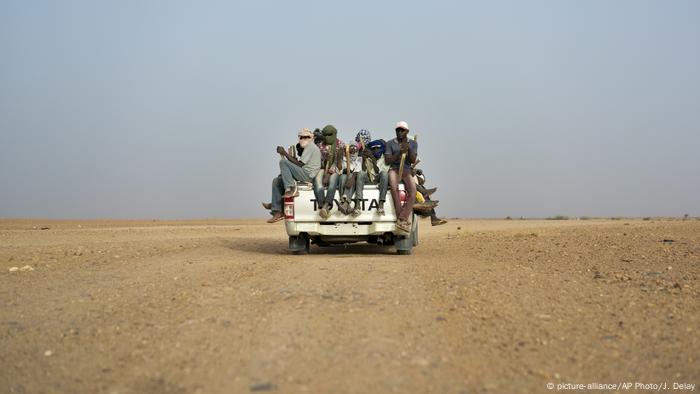 Migrants reportedly abandoned in desert by Algeria
Algerian Interior Minister Noureddine Bedoui also denounced "a campaign of non-constructive and unfounded criticism" against his government.
"[Algeria] has always supported African migrants and spared no effort, including humanitarian, to lend them aid and assistance," he said.
The African Union, many of whose member governments have citizens among the expelled migrants, has demanded that Algeria stop abandoning people in the desert.
Algeria's government, however, has refused to acknowledge that it does this. Soon after the AP report and a Human Rights Watch report came out detailing the desert expulsions, Algeria asked local journalists to observe the mass detention of migrants, claiming it was proof of their humane treatment.
The journalists, however, weren't permitted to travel beyond the detention centers where the migrants are held before expulsion.
The IOM said since the beginning of the year, it has conducted 18 rescue operations involving 3,000 people in the area.
av/sms (AP, AFP)
Each evening at 1830 UTC, DW's editors send out a selection of the day's hard news and quality feature journalism. You can sign up to receive it directly here.