In a statement read on national television on Wednesday, the Niger government said the migrants died between June 6 and 12.
Of the adult migrants, nine were women and five were men, Interior Minister Bazoum Mohammed said, adding that President Mahamadou Issoufou expressed his condolences to their families.
"Thirty-four people of whom five were men, nine were women and 20 children, died as they tried to cross the desert," Mohammed said. "They probably died of thirst, as is often the case, and they were found near Assamaka," a border post between Niger and Algeria.
The migrants "were abandoned by people smugglers," the statement added. Only two of the bodies have so far been identified: a man and a 26-year-old woman, both from Niger.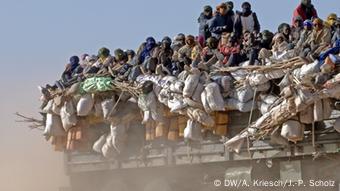 Truck leaves Agadez heading for the desert
A dangerous route
Assamakka is a small town in northern Niger at the only official crossing point between Niger and Algeria, 450 kilometers (280 miles) north of Agadez. This is the largest city in central Niger and the point at which buses end their routes and migrants are at the mercy of smugglers for the desert crossing to the Mediterranean coast.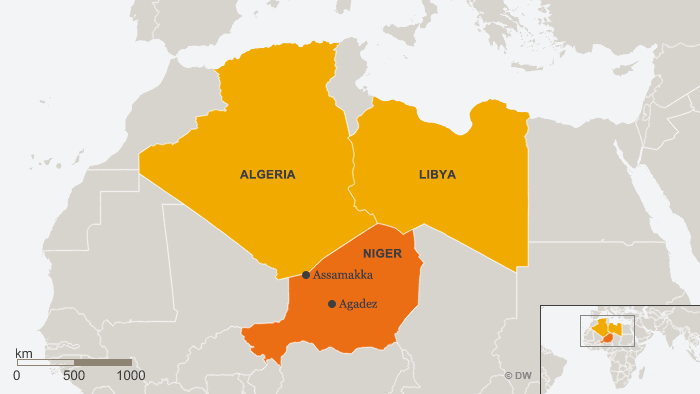 Thousands of illegal migrants have arrived in Algeria in recent years, mostly from neighboring Mali and Niger. The route through Libya has become even more dangerous for migrants because of local disputes and conflict.
Despite the dangers, Arezo Malakooti, senior researcher at the Global Migration Data Analysis Centre of the International Organization for Migration, said migrants are using the Libya route as it is now impossible to cross into Spain from Morocco:
Using data from it Displacement Tracking Matrix, the International Organization for Migration (IOM) has estimated that 120,000 people crossed through Agadez last year and 60,000 between February and April this year.
Earlier this year, IOM Chief of Mission in Niger Giuseppe Loprete said: "Collecting data in these areas remains a challenge, but for the first time we now have reliable information and estimations on the migratory flows. The analysis of these trends is key to address the drivers of the migration through West Africa to North Africa and Europe, and we will continue to reinforce our activities, especially in the most remote areas of Niger."
On the southern edge of the Sahara desert, smugglers are believed to charge up to 500 euros for the trip from Agadir across the desert, often in the back of an open pick-up truck, towards the Mediterranean coastline of Algeria or Libya some 3,000 kilometers away.
Frequent sand storms change the appearance of the landscape and many people get lost.
There is also the threat of attacks from rival smugglers who may steal the vehicle and leave the migrants to die in the desert.
jm/sms (AFP, Reuters)