Air pollution is the fourth highest risk factor for premature death worldwide, with more than 5.5 million people dying each year as a result of exposure to dangerous levels of particulate matter, scientists told a conference in Washington, DC.
"Reducing air pollution is an incredibly efficient way to improve the health of a population," said Michael Brauer, a professor at the University of British Columbia's School of Population and Public Health in Vancouver, Canada.
He told the conference of the American Association for the Advancement of Science (AAAS) that smog was responsible for about 10 percent of premature deaths annually worldwide.
Only high blood pressure, diet and smoking cause more premature fatalities, according to the Global Burden of Disease Study carried out by the Institute for Health Metrics and Evaluation at the University of Washington in Seattle.
China and India worst affected
Of the yearly global deaths from air pollution, 55 percent occur in China and India, according to researchers. In 2013, about 1.6 million people in China and 1.4 million in India died of diseases related to poor air quality.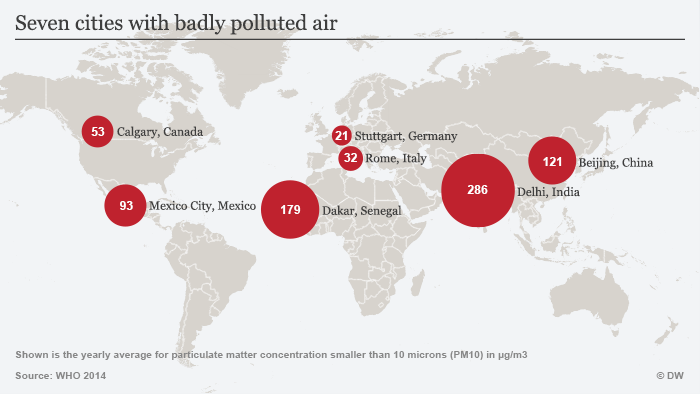 In China, the bulk of air pollution comes from burning coal, and in India the main culprit is the burning of wood, dung and biomass for cooking and heating, in addition to road traffic. In February, the respective capitals, Beijing and New Delhi, typically see daily levels at or above 300 micrograms of particulate matter per cubic meter - or 1,200 percent higher than WHO guidelines, researchers said.
The researchers said more than 85 percent of the world's population lived in areas exceeding the WHO guidelines of a maximum of 25 micrograms per cubic meter.
The AAAS conference is the world's largest scientific conference. This year's meeting will run until Monday, February 15.
tj/mkg (dpa, AFP)