Election officials in Tehran appeared stunned on Wednesday as Iran's former firebrand president submitted the necessary paperwork to run as a candidate in next month's presidential election.
While it remained unclear whether Mahmoud Ahmadinejad genuinely intended to run for president again, the move poses a direct challenge to the authority of Iran's Supreme Leader, Ayatollah Ali Khamenei, and upends an election many thought would easily be won by ruling moderate Hassan Rouhani.
Ahmadinejad, who served two four-year terms from 2005 to 2013, registered alongside his former deputy, Hamid Baghaie, who is also running. Ahmadinejad said his only intention was to support Baghaie, without offering further explanation.
Analysts say that by putting his name forward, Ahmadinejad could bolster Baghaie's chances of winning since disqualifying both men could prove politically costly for the Guardian Council, which will vet and approve the prospective candidates.
Tehran-based analyst Soroush Farhadian described Ahmadinejad's prospective candidacy as "an organized mutiny against Iran's ruling system."
Read more: Donald Trump - the darling of Iran's hardliners
Defying the Supreme Leader
Khamenei had told Ahmadinejad not to run in this year's election, deeming him too divisive a figure. Fissures continue to linger inside Iran ever since Ahmadinejad's contested re-election in 2009 sparked violent unrest and a sweeping crackdown that saw dozens of people killed and thousands detained.
Invoking memories of the 2009 protests, Khamenei said in September that he had recommended an unnamed candidate not to seek office as it would bring about a "polarized situation" that would be "harmful to the country." The next month, Ahmadinejad announced in a statement that he would abide by the order.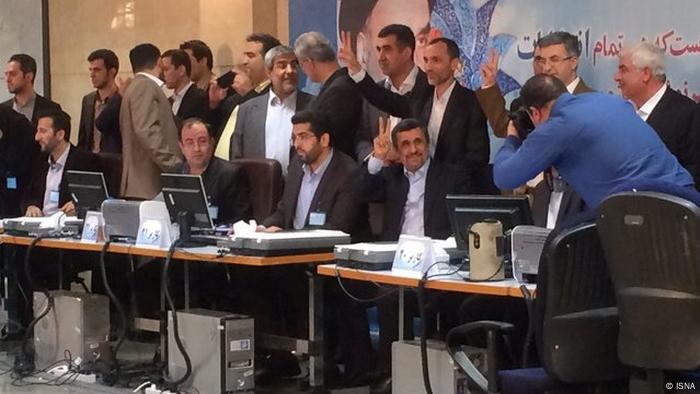 Election officials look on as the former firebrand president gives a peace sign to the cameras.
However, Ahmadinejad reneged on Wednesday, telling reporters that Khamenei's "advice was not a ban" and he remained committed to his "mortal promise," reiterating that his only intention was to support Baghaie.
Nuclear referendum
Iran's presidential election, scheduled for May 19, is seen by many as a referendum on Iran's 2015 nuclear agreement with Western powers. While the deal has seen international financial and trade sanctions lifted on Tehran, many of the benefits have yet to trickle down to the average Iranian.
That leaves many of spoils open to any candidate able to stoke conservative, nationalist or anti-establishment sentiments on the domestic front and stand up to US President Donald Trump and the West on the international front.
After overseeing Iran's nuclear expansion, vowing to eliminate Israel and questioning the scale of the Holocaust, Ahmadinejad and his allies would tick most of those boxes.
dm/kms (AP, Reuters, AFP, dpa)