"If Hassan Rouhani is re-elected in presidential elections in May 2017, we will experience another Iran in five to six years." That was the prediction of Major General Herzi Halevi, head of Israel's military intelligence service, at the end of November while addressing university students in Tel Aviv. Rouhani has understood the needs of his people better than any other Iranian politician, he said. But re-election for Rouhani is looking less and less likely now. The Iranian president is facing fierce criticism at home. And now, his most important foreign policy success - the signing of the nuclear agreement and the end to international sanctions - is being called into question.
Trump playing into hands of hardliners
US President Barack Obama has always championed the nuclear agreement. He says it makes the world a safer place. But his successor, Donald Trump, has repeatedly said that he intends to dismantle the agreement with Tehran. He has called it the "worst deal ever made."
It's an opinion shared by Iran's hardliners. "Free us from the nuclear agreement," Hossein Shariatmadari, editor-in-chief of the conservative "Keyhan" newspaper in Tehran, wrote in remarks addressed to Trump. "It's doing nothing for us." Shariatmadari is known to be an advisor to Iran's Supreme Leader Ayatollah Khamenei. He and other hardliners in Iran welcomed Trump's victory in the US election.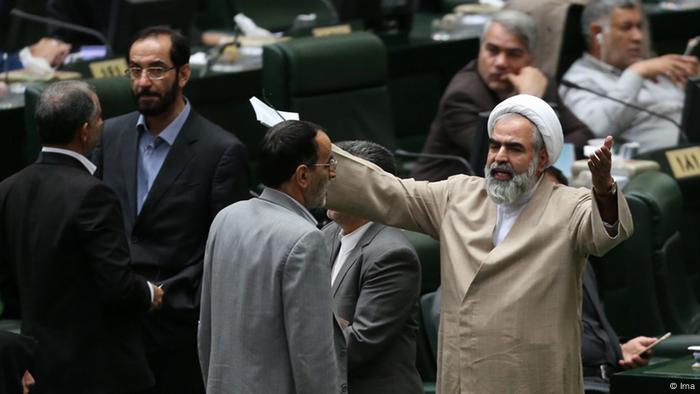 The hardliners in Iran were against the nuclear deal
Reformist government under pressure
If Trump were to overturn the nuclear deal, it would spell serious difficulties for Rouhani in the May election. Conservatives want to prevent Rouhani from being re-elected. Iran's powerful Revolutionary Guard is against him. For over 30 years, it has been profiting from the black market economy that flourished under the sanctions against Iran, which stretches across all sectors from road construction to oil production. A normalization of ties between Iran and the US would be just as damaging to their economic interests as Rouhani's plans to liberalize the Iranian economy as quickly as possible.
The nuclear deal was essential for Iran's return to the international community. The deal stipulates that Iran no longer enrich uranium to weapons grade. According to some estimates, Iran produced enough fissile material in recent years to be able to manufacture nuclear weapons in a short period of time. If the agreement were to be overturned, many in the West fear that Iran could resume its nuclear program.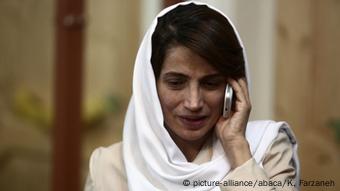 Sotoudeh and other representatives of Iranian civil society are concerned about Trump's plans
Fear of new sanctions
Trump's announcement also unsettled the Iranian people. "We supported the nuclear deal because we didn't want there to be a war," Nasrin Sotoudeh, a renowned human rights activist from Tehran, told DW. But many critics of the regime living in exile see things differently. They see regime change as the solution to Iran's problems, because for them, Rouhani's policy of reconciliation is an obstacle. Recently, 30 Iranian dissidents in exile wrote an open letter to Donald Trump, calling on him to dismiss the nuclear agreement and reintroduce sanctions against Iran. However, this group has barely any backing in Iranian society. Just hours after it was published, their letter was heavily criticized in more than 5,000 tweets.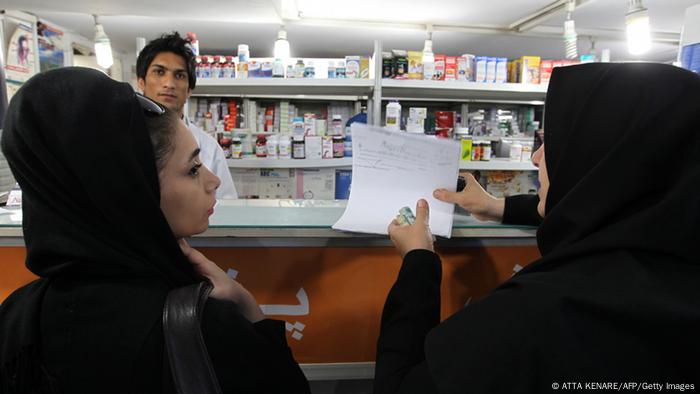 Under sanctions, Iran was excluded from the international financial system and could not order medicine from abroad
"We will continue to defend this agreement, which was reached after years of negotiation," said Trita Parsi, president of the Washington-based Iranian-American non-governmental organization NIAC. The NGO is one of the most influential supporters of the nuclear negotiations. "In 2015, it was about war or peace for us," said Parsi. "That still hasn't changed today."