A recent study has found that over the last six years, 100,000 people in Sao Paulo have died from air pollution-related illnesses.
Evangelina Vormittag of the Institute for Health and Sustainability and Paulo Saldiva of the University of Sao Paulo conducted the study, which also found that cars are responsible for 90 percent of all emissions in the city.
The problem will likely grow worse unless policymakers address rising levels of car ownership, the authors concluded.
Car ownership rising
One of the study's authors said she hoped that the findings will foster a much-needed debate on how to improve the city's public transport system.
The study determined that pollutants in Sao Paulo's air had reached 20 to 25 micrograms per cubic meter - more than double the limits set by the World Health Organization.
"This was something that was a surprise for everybody," Vormittag told DW. "That's why a lot of people are talking about it in the media."
Official reaction to the study has been mixed: while policymakers like Sao Paulo's mayor Fernando Haddad have dismissed it, others in government agree with the findings, and have begun riding buses to set a good example for locals.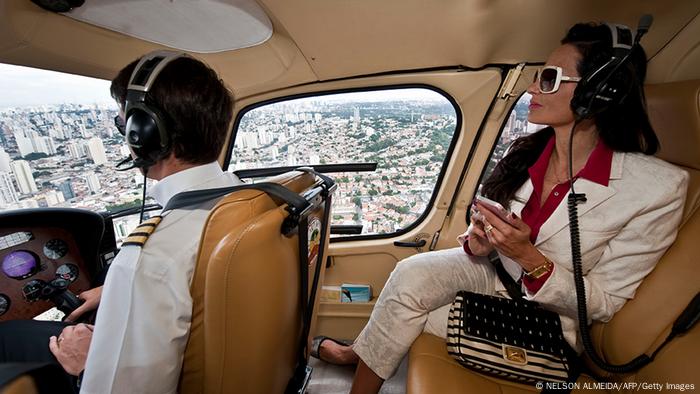 Brazil's super-rich have turned to helicopters to bypass traffic and security problems
Yet government regulations continue to encourage car usage. For example, recently, city and state governments increased incentives for car ownership, while loosening car emissions standards. In June of this year Sao Paulo residents protested violently about rising public transport costs.
These incentives - coupled with a growing Brazilian middle class - have meant more Sao Paulo residents, or Paulistanos, are buying cars. In the mid 1980s, Sao Paulo had about 1.5 million cars - today it has 7 million.
Mega traffic jams
While officials have created bus lanes to make public transit a more appealing option, many residents complain that buses have actually been cut on some lines.
Maria, a barista in the Jardins business district, said the bus service to her borough was recently halved. She said services were recently reduced from every 15 minutes to every 30 minutes.
"It's ridiculous," she told DW. "They are not improving anything, they are just selling more and more cars, and the tax for cars is getting lower and lower."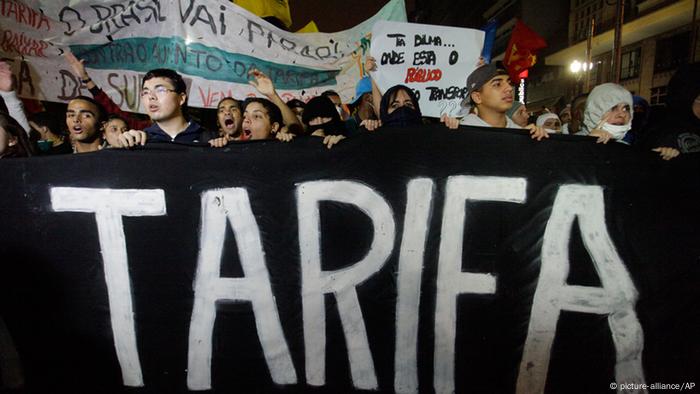 Residents of Sao Paulo protested against increased public transport fares in June
But, Matthew Shirts, an American expat who edits the Brazilian edition of National Geographic, said he senses a growing interest in environmentalism and mass transit in Brazil.
"Over the last couple of years, all of a sudden, people are fed up with the traffic jams, which are insane," Shirts told DW. "There are 200 kilometer (124.3 miles) long traffic jams on a regular basis."
Shirts said that the authorities' support for car usage is an area that needs changing.
Foreign solutions
"We have to get rid of all of the incentives for driving your car in the city, like what happened in London and New York," Shirts said. "It's going to have to happen here."
Shirts noted that Sao Paulo's officials are seeking to learn from their counterparts in other Latin American metropolises - like Mexico City and Bogota - which have successfully tackled similar air quality and traffic problems.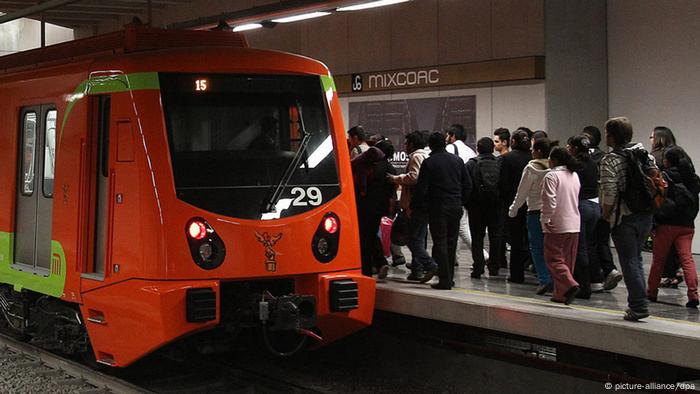 Mexico City has successfully tackled its traffic problem by building subway lines, among other measures
Experts in Brazil are hopeful that the unprecedented attention that's going to be focused on Brazil over the next few years could end up being a useful catalyst for environmental progress.
But, those stepped up sustainability and transit programs might not arrive in time for next year's World Cup and the 2016 Rio de Janeiro Olympics.