Nigerian President Muhammadu Buhari, who had been absent for more than three months to receive medical treatment in London, addressed the nation via televised speech on Monday for the first time since he returned to Nigeria.
While many Nigerians expected Buhari to also comment on his prolonged health issues, he did not explain his absence nor his medical condition, but instead talked about stepping up efforts to fight Boko Haram and stressed the importance of Nigeria's unity.
Nigeria has been dealing with a number of breakaway groups such as the Biafra independence movement that pushes for an independent region in the southeast. Terror group Boko Haram wants to establish an Islamic state in the northeast.
"Terrorists and criminals must be fought and destroyed relentlessly so that the majority of us can live in peace and safety," Buhari said.
He promised to "reinforce and reinvigorate the fight not only against elements of Boko Haram, which are attempting a new series of attacks on soft targets, kidnappings, farmers versus herdsmen clashes, in addition to ethnic violence fueled by political mischief makers."
Buhari also called on Nigerians to uphold the unity of the nation.
Separatists 'crossed national red lines'
"I was distressed to notice that some of the comments [in my absence], especially in the social media, have crossed national red lines by daring to question our collective existence as a nation. This is a step too far," he added.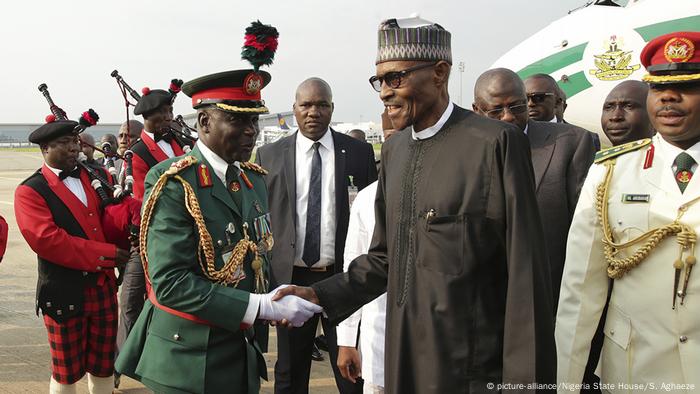 Nigerian President Buhari (r) returned to the country on Saturday - people commented on how thin and frail-looking he was
"The speech was concise, sharp, but very tough," said Abubakar Umar, a political scientist at the University of Abuja, Nigeria.
"He more or less talked like a military general," he added, saying Buhari intended to "send a strong warning to trouble makers in the country" and that the unity of the country was not negotiable.
No trust in Nigeria's health services?
However, citizens like Solomon Okoduwa were disappointed the president failed to comment on the reasons for his long absence.
"As a leader and the number one citizen, he should be able to tell his subjects the kind of headache, the kind of Malaria, the kind of fever he went to treat in the UK that we cannot treat in Nigeria," Okoduwa said.
"That shows that he as the president does not have confidence in Nigeria's health sector," he added.


The president's failure to disclose the nature of his health issues is widely seen as an indication that he has something to hide.
Asemota Kingsley of the Network of Civil Society Organisations of Nigeria says concealing what ordinarily should be public knowledge from the people shows the lack of regard the country's ruling class have for Nigerians.

"It is just unfortunate that the leadership of this country - they are taking their people for ride," Kingsley said.
"If you are not fit enough to govern the people, you resign, so that at least a capable hand can come in."
During Buhari's first medical trip to London this year, the president spent 50 days away from home. He traveled back to London two months after returning to Nigeria.
Nigerians will be watching whether he is going to make a third medical trip abroad this year. If that were to happen, calls for his resignation will surely be expressed even louder.

Sam Olukoya and Martina Schwikowski contributed to the report.