At least 19 people have been killed in a suicide bomb attack in the eastern Afghan city of Jalalabad, as President Ashraf Ghani was visiting the city.
The attacker struck a market in the center of town not far from the provincial governor's compound where Ghani was holding meetings, Attaullah Khogyani, spokesman for the governor, told news agency Agence France-Presse.
Of the 19 people killed, 17 were Sikhs and Hindus, said provincial health director Najibullah Kamawal. Twenty more people were wounded in the attack.
Avtar Singh Khalsa, the only Sikh candidate running in the October 20 parliamentary and district council elections, was among the dead, according to an official at the Indian Embassy. The embassy condemned the "cowardly terrorist" attack in a statement.
Read more: Why Taliban won't make peace with Kabul
Sikhs, Hindus in the minority
The self-styled "Islamic State" group later claimed responsibility for the attack, saying that it had targeted a group of "polytheists" in the bombing.
Afghanistan is an overwhelmingly Muslim nation, but small communities of Sikhs and Hindus remain. The country was once home to as many as a quarter of a million Sikhs and Hindus, but that figure has shrunk drastically, to roughly 300 families.
President Ghani arrived in Jalalabad earlier Sunday to open a hospital, in what was part of a two-day visit to the province of Nangarhar, which borders Pakistan.
The suicide attack came a day after Ghani ordered Afghan security forces to resume offensive operations against the Taliban after the expiration of the government's 18-day ceasefire.
The government's unilateral truce overlapped with the Taliban's three-day ceasefire for the Eid festivities at the end of Ramadan, but the militants refused to prolong it.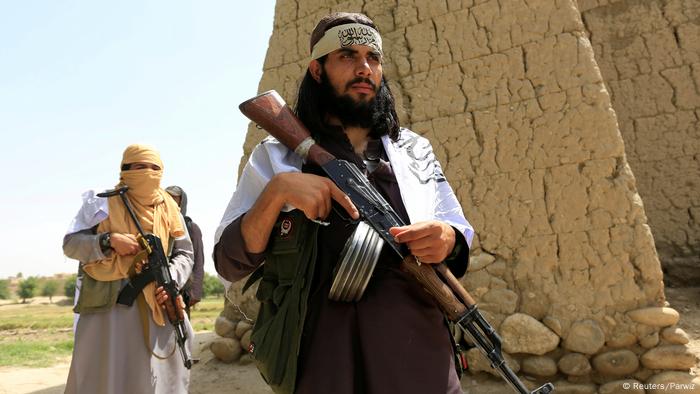 The Taliban have insisted on direct talks with the United States
US envoy in Kabul
The attack came as US envoy Alice Wells is visiting Kabul as part of efforts to put pressure on the Taliban to engage in peace talks.
The Taliban have so far ignored Ghani's offer of peace negotiations. Instead, they have insisted on direct talks with the United States, which Washington has repeatedly refused.
Wells said since the Afghan government and the United States were willing to start talking without preconditions, it is now up to the Taliban to respond.
"Right now it's the Taliban leaders... who aren't residing in Afghanistan, who are the obstacle to a negotiated political settlement," said Wells.
Wells, due to hold talks in Pakistan on Monday, said Islamabad also needed to do more to get the Taliban to the negotiating table.
av/cmk (AFP, DPA, Reuters)
Each evening at 1830 UTC, DW's editors send out a selection of the day's hard news and quality feature journalism. You can sign up to receive it directly here.