The United States' renewal of sanctions on Iran is having an unintended knock-on effect on Afghanistan. The country's currency is taking a beating as dollar smugglers rush to provide much-needed foreign exchange to the neighboring Iranian economy.
The sanctions, which came into effect earlier this month, have caused an acute shortage of dollars in Iran, hurting importers and Iranians, who need the greenback to travel abroad.
"It's difficult to ascertain how much [dollars] is flowing into Iran because of smuggling but certainly it is going. I say that because the main depreciation has happened here since the US withdrew from its agreements with Iran," the governor of Afghanistan's central bank, Khalil Sediq, told DW.
"From that day onwards, the rial [Iran's currency] began depreciating day by day. So certainly this is encouraging smugglers to find ways to smuggle foreign exchange to benefit from this situation," he said.
Afghanistan's currency, the afghani, has been on a downward spiral since the end of 2014, when a bulk of foreign troops were drawn out. The afghani has fallen 20 percent during that period, mainly due to a worsening security situation and a huge trade deficit.
It has fallen nearly 4 percent since May, when US President Donald Trump abandoned the Iran nuclear deal and announced a renewal of tough US sanctions on the Islamic republic. The Iranian rial has fallen nearly 40 percent since.
Read more: US reimposes sanctions on Iran: What does that mean?
Porous borders
Iran and Pakistan are Afghanistan's biggest trade partners, accounting for almost a third of the landlocked country's trade turnover. Any crisis afflicting them has a direct impact on Afghanistan's economy and currency.
For instance, Afghanistan risks importing inflation from Iran, where the rial's fall has led to a rise in prices of essential goods, especially those that are made from imported raw materials.
But for dollar smugglers in the western provinces of Herat, Farah and Nimruz, situated along the Iranian border, it's a perfect time for business.
Traders from these provinces have traditionally crossed into Iran to trade goods. But a sharp fall in the value of the rial against the dollar has made transferring the greenback to Iran a profitable business on its own.
The surge in smuggling has irked residents in Herat, where an increased demand for dollars has led to a fall in the value of afghani.
Read more: How the EU plans to get around US sanctions on Iran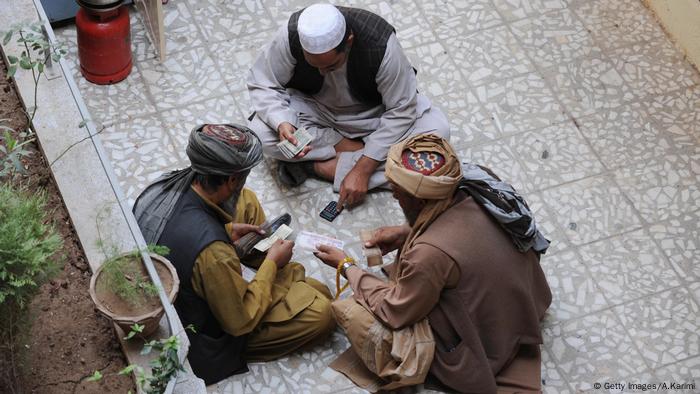 A sharp fall in Iranian rial against the dollar has made transferring the greenback across the border to Iran a profitable business on its own.
As much as $2-3 million (€1.7-2.6 million) cross the porous borders of the three provinces into Iran every day, Reuters reported, citing estimates provided by the Federation of Money Changers of Herat.
Sediq, who in a testimony before Afghan lawmakers in July cited dollar smuggling as a major reason behind the afghani's depreciation, says it's not possible to control "each inch" of the country's borders.
"So certainly, if there is any change in a neighboring country, if there is an increase in demand for foreign currency there, then people will certainly smuggle foreign currency," said Sediq.
The central bank governor, however, disputed the figure given by the money changers, saying that's equal to the amount of dollars smuggled every day to Iran, Pakistan and the United Arab Emirates combined.
Read more: Who will suffer when the US resumes Iran sanctions?
'Forex reserves unaffected'
Sediq, whose bank is responsible for keeping the currency stable, said the spike in smuggling activity has had no impact on the country's foreign exchange reserves of around $8.1 billion.
"We are not providing dollars from our reserve for people to smuggle," he said.
The central bank governor stresses that 80-90 percent of the foreign exchange auctioned by the bank is used to finance its affiliated banks.
Even the money changers who buy foreign currency from the banks sell it to the traders who pay for the imported goods through legal channels, he said.
"We are monitoring the inflow as well as the outflow. So these things (smuggling) will not affect our reserves and we will not allow them to affect it," Sediq said.