Weddings are one of the few occasions in Afghanistan when families and friends can forget their sorrows and the ongoing violence in their country and have some fun. It is traditional to dance into the early morning hours after a feast. It is also traditional for the bride to put on a sad face because she is leaving her family; she is not allowed to smile.
However, for many brides this is not an act. They really are unhappy at their weddings and not because they are leaving their families but because they are being forced into a marriage against their will.
People took to the streets to protest the increase in violence against women in 2009
Shafiqa has a friend who is in one such unhappy marriage. "She is called Nadia. Her family forced her to get married but she didn't want to marry the man chosen for her. She tried to kill herself but her family stopped her in time, preventing her from committing suicide."
According to the Afghanistan Independent Human Rights Commission, between 60 and 80 percent of all marriages in Afghanistan are forced. Moreover, in almost 50 percent of cases women are married before the age of 18; in 15 percent they are not even 16.
A final resort
Many girls and young women see suicide as their only escape. "It's a final resort and the last attempt at resistance, to not accept the situation women are being pushed into," said Monika Hauser. The gynecologist founded the German women's rights organization medica mondiale 20 years ago and set up medica Afghanistan nine years ago.
"The suicide rate is rising particularly in towns because women are fighting against forced marriages there." Women in cities tend to be more educated and have easier access to the media that show there are other ways of living, she explained.
In Herat, on the border with Iran, the Institute for War and Peace Reporting said the number of self-immolations among young women had risen by 50 percent in 2009.
Discrimination against women is widespread in Afghanistan
"Refugees from Iran experience relative freedom and are then confronted with repressive family structures," she added.
A more recent study released by a former Afghan health minister found that five in 100,000 Afghan women commit suicide.
Massive psychological pressure
According to recent studies, some 1.8 million Afghan women have been diagnosed with depression. Dr. Mohammad Ashraf Rawan, who offers psychiatric support in the northern province of Balkh says violence against women and restrictive conditions are potentially fatal.
"A forced marriage often leads to problems or divorce," he adds. "Girls who are married against their will and on whom there is great pressure tend to get depressed or have psychological problems and that sometimes leads to suicide."
Tradition takes priority
According to Islamic law, a man and woman should agree on a marriage for it to be valid. However, tradition tends to take priority in Afghanistan. Parents often decide upon their daughters' future without asking them for an opinion. Men, on the other hand, are generally able to reject their family's choice of bride and can even choose their own bride sometimes.
Last year, Fauzia Nawabi from the Afghanistan Independent Human Rights Commission conducted interviews with women who had tried to commit suicide one or more times. "The real reason for their attempts was forced marriage almost every time."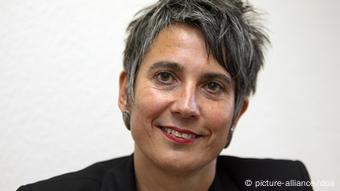 Monika Hauser received the Alternative Nobel Prize Right Livelihood Award in 2008
Fauzia Nawabi is responsible for four northern provinces. In 2012, 36 suicide attempts were registered there and 10 women survived. Nawabi says the real figure is much higher as most suicides simply are not registered because they are kept secret by the families.
That's why it's so important to be there for girls and women says Monika Hauser. medica Afghanistan not only offers psychological support but also legal advice in centers that have become famous by word-of-mouth across the country. "They can speak freely in a protected environment. It is important that they realize they are not alone and this is a societal problem."
Although the Afghan constitution says men and women are equal before the law, this is often only true on paper, she says. A decree to end violence against women was signed by Afghan President Hamid Karzai three years ago but it has yet to be adopted in parliament. It would raise the legal minimum age of marriage to 16.