In his first public appearance in nearly two decades, notorious Afghan warlord Gulbuddin Hekmatyar (pictured) urged Taliban insurgents to join a "caravan of peace."
"… stop the pointless, meaningless and unholy war," Hekmatyar told a gathering of his followers and Afghan politicians in Laghman province, east of the capital, Kabul.
Hekmatyar, the leader of the Islamist organization Hezb-i-Islami, had occasionally collaborated with al-Qaeda and the Taliban after the 2001 US-led invasion of Afghanistan. He was Afghanistan's prime minister from 1993 to 1994, and again briefly in 1996, before the Taliban took over Kabul.
In September last year, the Afghan government signed a peace agreement with Hekmatyar and his militant group despite criticism from some sections of Afghan society.
In February, the UN Security Council lifted sanctions against Hekmatyar, including a freeze that had been put on his assets, a comprehensive travel ban, and an arms embargo.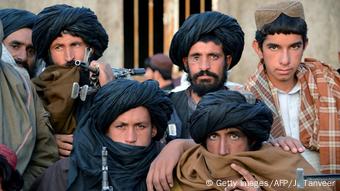 Will the Afghan Taliban engage in peace talks with Kabul?
"Afghans are the only victims of this war," Hekmatyar said, adding he would fight insurgent groups together with the Afghan government headed by President Ashraf Ghani.
"We need a powerful, centralized government," the warlord said, adding that foreign forces could not win the war in Afghanistan.
Peace process
Members of Afghanistan's High Peace Council, the body tasked with forging reconciliation with the Taliban and other armed groups, believe Hekmatyar could pave the way for other militant groups like the Taliban to join the government.
President Ghani's National Unity Government is under pressure for failing to reach a peace agreement with the Taliban or with other armed groups. Efforts by Afghanistan to reconcile with the Taliban using Pakistan's support seem to have hit a dead end, with Kabul blaming Islamabad of not fulfilling its promises.
Amid worsening ties with Afghanistan and the US, Pakistan has drifted closer to China and Russia and has sought their help to end the Afghan conflict.
Hekmatyar is believed to have good relations with Pakistan's military establishment, but the former premier warned Afghanistan's neighbors against meddling in his country's internal matters.
"I hope that our neighbors do not make Afghanistan into a battlefield for their political and military rivalry."