Blue tents, green tents, grey tents - Brussels' Parc Maximilien is full of tents. They are drenched from the pouring rain that has reduced the paths leading through the park to mud. These tents are now home to some 800 people from Syria, Iraq, Afghanistan and Eritrea.
Volunteers wearing rain capes and rubber boots navigate their way between the tents on wooden planks that have been laid down to prevent people from slipping in the mud. One of them is Elodie Francart, a 27-year old who functions as a spokesperson.
"I came here two weeks ago to bring some stuff," she said, "and I noticed that nobody was coordinating efforts. So I started doing it."
Standing outside the "office tent" in which flip charts detail what needs to be done, Francart gestures to the refugees making their way along the muddy paths. "None of the people in this camp have been able to register at the immigration office yet."
No shelter without registered claim
August saw 4,621 people apply for asylum in Belgium, up by more than 50 percent from the month of July. But since last month, the Immigration Office has seen itself capable of registering only 250 asylum claims per day. Yet it is only after having made the claim that the governmental agency responsible for asylum seekers (Fedasil) can assign them accommodation in one of the 56 housing centers located across the country.
"Quite quickly, people were turned away from the Immigration Office with nothing more than a document saying they had to come back another day, so that created a backlog in front of the office's door," says Tristan Wibault, a lawyer who is a member of the Human Rights League.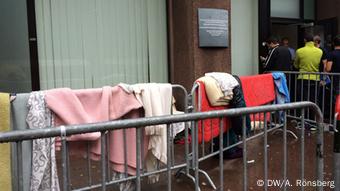 Blankets bear testimony to the fact that people first camped out right in front of the Immigration Office
Over the course of the last two weeks, this "backlog" in front of the Immigration Office has turned into the refugee camp in Parc Maximilien, located just across the street from the office.
"The government probably didn't expect that people would just stay there," said Wibault. "There was the hope that they would vanish and go elsewhere. But that hasn't happened."
Governmental shelter now open
Ten days ago the government reacted, opening up a shelter run by the Red Cross with 500 beds for those asylum seekers who had not yet been able to register their asylum claims. But the shelter is located just a few meters away from the Immigration Office, and the Parc Maximilien was set out for people to do nothing but sleep there overnight.
As of Wednesday, the shelter is open day and night. As a consequence, though, it only provides room for 300 people.
"The beds were very close together, so for 24/7 accommodation, we had to reduce the number of beds," explained An Luyten of the Belgian Red Cross. "We need more room because we want to give people more privacy and we also need room for them to eat there, and to install lockers and showers."
Normalcy in an environment that's far from normal
People in the tent camp in Parc Maximilien are unaware of this, and they seem to accept conditions as they are. Refugees help volunteers nail wooden planks together to build footbridges across the muddiest paths. As soon as the rain stops, some start kicking a football around on the park's small field, while others take a ride on the zip line.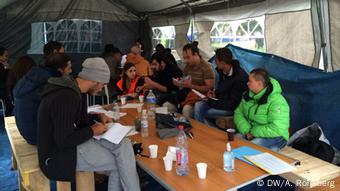 Volunteers teach French and Dutch to refugees in the so-called "school tent"
In the "school tent," some refugees have assembled around a volunteer teaching French. There is a prayer tent with carpets to kneel down on for prayer, and food and hot drinks are served at a kitchen stand. In one tent, multiple electrical sockets are laid out on tables, along with different chargers for mobile phones.
Touching personal stories
Without knowledge of Arabic, it is impossible to talk to the refugees to hear their stories. "We have translators," said Elodie, who then tells one story that particularly touched her heart.
"One evening Bouchra arrived here, a 17-year-old girl from Syria. Her mother had died in Syria, her father had been held up at the border in Bulgaria. So she was the only one of her family to make it across and she just followed the track here to Belgium. She was very scared when she got here," said Elodie, with tears coming to her eyes as she remembers the evening.
Those from the NGO Doctors of the World, who provide medical assistance to the refugees, have more stories to tell. Two doctors, nurses as well as translators work night and day. "It's mostly respiratory diseases, ranging from a cough to pneumonia," said Jelle Boone, spokesperson for Doctors of the World in Belgium. "We also treat toothaches that might result from malnutrition. And also there are bone fractures and other injuries the refugees suffered on their trip coming here, like from the barbed wire in Hungary."
Meanwhile, psychologists also offer assistance in the medical tent. "That's because of the post-traumatic stress disorders," he said. "We had a little kid here from Gaza that started panicking when airplanes were flying over the camp. And the other day people were breaking down when the farmers protesting over milk prices were throwing fire crackers, reminding people here of gunfire."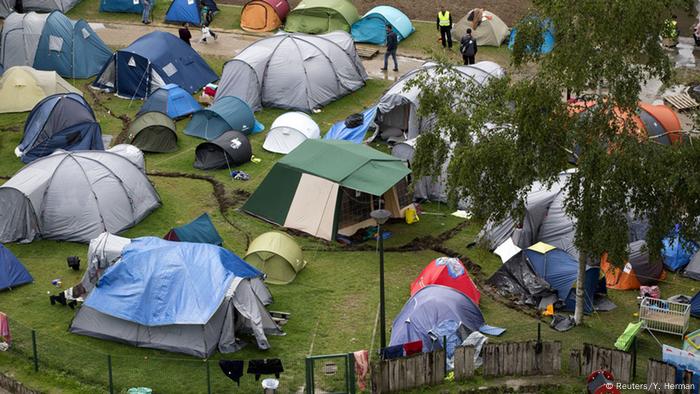 Parc Maximilien is stretched to capacity
Not a permanent solution
"We expect this to end soon," said Boone, referring to the camp which is beginning to be stretched beyond its capacities. Prime Minister Charles Michel has already said that he would like to close the camp as soon as possible - in coordination with the NGOs.
He also announced that more accommodation may be made available for those waiting for registration for up to two weeks.
But for lawyer Tristan Wibault, the government is not tackling the right end of the problem. "The asylum seekers should be registered immediately when they show up at the Immigration Office and then receive proper accommodation. The argument that the Immigration Office cannot register more than 250 people a day is absurd. They say the waiting room is too small, but they have had enough time to find another building."
He says the reason behind the Immigration Office stalling on the registration process has to do with the fact that there is not enough accommodation for registered asylum seekers.
"Over the last year, the government has shut refugee shelters because they wanted to have the number of places at their disposal as close as possible to the actual number of those accommodated. But that means that when there is a sharp increase in numbers, you don't have enough places to put them up anymore," said Wibault.