Ahmed Said, a vascular surgeon who had worked in Frankfurt for a few months, treated bloodied protesters in a field hospital near Cairo's Tahrir Square in November 2011. In the infamous clashes between the military and protesters in Mohamed Mahmoud Street, where 42 were killed, Said carefully tended to the wounded against the backdrop of graffiti murals commemorating victims from Egypt's watershed year.
Said was arrested along with four others in November 2015 from a downtown Cairo café hours after attending a silent protest in remembrance of the victims from the 2011 street clashes. He was sentenced to two years on charges such as blocking traffic and his final hearing is scheduled later this month.
"He was coming for a quick break to finish paperwork and was planning to continue his life back in Germany," Lamia, Ahmed's sister, told DW. "He is so intimately attached to Egypt, he loves walking the streets especially in the morning. He could have finished it all in Germany but chose to come back because he misses the country so much."
He was tortured in Abdeen police station, according to his sister, and went into a hunger strike last month to protest the treatment he received. Said was then transferred to several prisons before ending up in the notorious maximum security Aqrab (Scorpion) wing of Tora prison.
"We don't understand how he has ended up in a prison reserved for terrorists and the most hardened criminals that threaten the state. How can he be there when he was just coming for a holiday?" she added.
Regime crackdown
Said's arrest comes at a time of intense crackdown from the current regime ahead of the fifth anniversary of the January 25 revolution. This month has seen the arrest of activists, Facebook pages' administrators and a sweeping raid of over 5,000 apartments in downtown Cairo.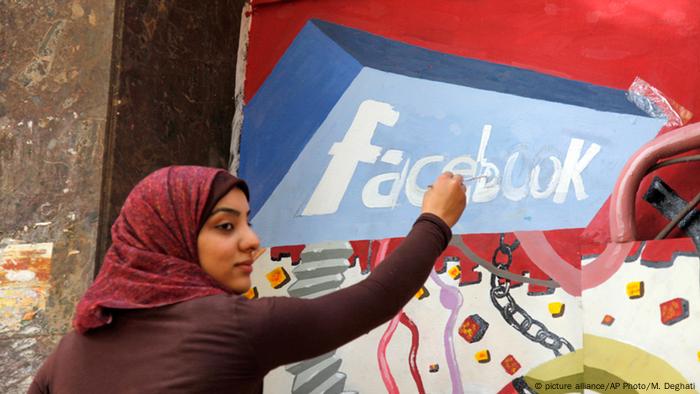 Five years after the revolution, the regime is still harassing those who are critical and could threaten its existence
"The regime is panicking. It's a strong regime, it's powerful, it's in charge, it has its hands on all aspects of life. Despite this and despite crushing all centers of opposition and rounding up dozens of youths and opposition figures, the regime is acting in a bizarre and senseless way," Khaled Fahmy, a visiting history professor at Harvard University, told DW.
"That date has become a symbol of an existential threat to the state."
Fahmy, who was tasked by the Ministry of Culture in 2011 to head a national committee to document the revolution, argues that the modern Egyptian state has experienced multiple revolutionary moments and that 2011 was the latest culmination of a citizenry asserting its rights. In all of these instances, the regime of the day has tried to quell opposition from student groups to labour unions to Islamists but he noted that the ongoing crackdown is unprecedented and is in response to "a phantom that has been haunting the regime."
Turbulent times
Since President Abdel-Fattah el-Sissi ousted Mohamed Morsi in July 2013, Egypt has endured a turbulent political and economic path. The regime has been roundly criticized for its flagrant abuse of human rights, stifling press freedoms, various security lapses and worsening a battered tourism sector.
Eliane, Said's girlfriend who declined to give her last name to DW, has deeply felt Cairo's turbulent political atmosphere in a personal way with his arrest. The Free University of Berlin anthropology student had met Said at a protest in June 2013 Frankfurt and found him to be charismatic.
They had lost contact for months after but Said was determined to build a life together with Eliane in Berlin putting in place plans to facilitate the move. The paperwork was to include a marriage certificate - bureaucratic proof of their relationship.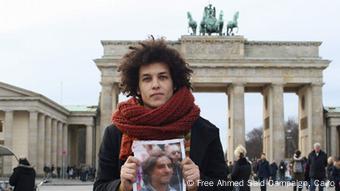 Fighting for Said's freedom
Revolution reloaded
"It's a sad thing to witness - heartbreaking actually," Eliane told DW about Ahmed's arrest in the larger context of freedoms being rolled back after the revolution. "Hope is a dangerous thing. I am trying to stay aware of what might happen and prepare myself for the worst."
"I miss his presence all the time. I miss knowing he is safe. I miss everything about him," she said.
German Greens MP Franziska Branter raised Said's case in a parliamentary session coinciding with Egypt's Foreign Minister Sameh Shoukry's visit to Berlin last week, while Amnesty International has labelled the charges he's being held on as "trumped up."
In a poignant letter from prison and which Amnesty International published, Said writes "I did what I did in order to feel free and to take back my freedom before it became nothing but a memory - and in order to preserve the last ray of light cast by the revolution."
As Egyptians prepare to mark the fifth anniversary of the revolution amid further arrest and a security crackdown, Said's case is emblematic of a revolution that is still unfolding.