"For the most part, it's disastrous rubbish. More than half are fraud and creepy. On the whole they are not stacked up to what they are supposed to be." This is one reaction to the selection of 3D movies available to watch at home on TV. It comes from the mouth of Professor Ludger Pfanz, who is regarded in Germany as the "3D Professor". He was one of the first to be concerned with 3D from a scientific and artistic point of view. Since early 2010 he has headed the new institute "Expanded 3 Digital Cinema Laboratory" at Karlsruhe University of Applied Sciences, where the first course for 3D content research was created.
Professor Pfanz says he has seen every 3D film that has ever been released. Most of the time, he turns them off after just five minutes, "Either because they are so bad technically or the content is unbearable," criticized the professor. When asked what people could watch in 3D, Pfanz named, after a brief hesitation, James Cameron's first 3D success "Avatar" and "Hugo" by Martin Scorsese as good examples.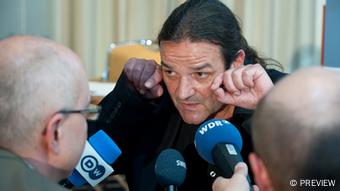 German 3D film professor, Ludger Pfanz
"But so far, 'Pina' by Wim Wenders is still the best thing I've seen in 3D." This was not just to the credit of Wenders says Pfanz, emphasizing that Pina Bausch staged a dance in a space that really captured dance theater. "Wenders just translated that into film."
Other than the few excellent 3D movies, experts are largely critical. Apart from the fact that the technology is still too expensive, the supply of 3D movies leaves much to be desired in terms of content and quality, notes Pfanz.
The industy does its homework
Television manufacturers, however, are keeping pace with the development of 3D as an entertainment medium. They have done their homework with diligence and perseverance. Two years ago 3D in Full HD was the celebrated "gold standard". But from the perspective of developers in the laboratories of major electronics companies, this is already old hat. High definition (HD) has now become Ultra Definition (UD) and two new technologies have also come into play - "OLED" and "4K".
The new technology, organic light emitting diodes (OLED), has obvious advantages. Besides the super brilliant image with ultra sharpness and color fidelity it offers significantly lower power consumption and elevates screen sizes to a new dimension. The major manufacturers are in a race to be the best, and the Koreans are in the lead. At IFA in Berlin, LG and Samsung are celebrating the launch of the first 55 inch (140 cm) OLED device with a diagonal of about the same length. Among LED and 3D models, the largest is 84 inches - which is well over two meters.
But the end of the flagpole has not been reached and the same applies to image resolution. At IFA, many manufacturers have presented top-of-the-line LED devices that shine in 4K with a resolution of 3840 x 2160 pixels. For the uninitiated, this translates into a quadrupling of pixels from HD to 4K, and a doubling to Full HD.
3D without the glasses
The concept of a home theater will only continue to gain popularity if the issue of 3D glasses is addressed. So far, no one has the answer. There are shutter glasses and polarized glasses but both are required for viewing 3D. But the first prototypes for glasses-free 3D TV sets have been released - but according to test results, the technology is not yet sufficiently mature.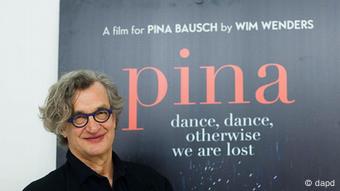 German film director, Wim Wenders standing in front of a 'Pina' poster
The industry and scientists, therefore, are intensely looking for solutions. The magic word is "autostereoscopic" also known as "glasses-free 3D". Researchers from the Fraunhofer Institute are demonstrating this new technology on stage at IFA converting 3D movies in real-time to conform to autostereoscopic displays. This new technology, however, will take another year of development before it hits department store shelves.
Professor Pfanz expects that by 2014 a quarter of German households will have 3D-enabled devices and see "Event-related 3D TV with glasses". For sophisticated and affordable 3D viewing without glasses for the masses, you will have to wait a little longer, predicts Pfanz. Nevertheless, he is convinced that autostereoscopy will prevail in this decade, adding, "Then we will even watch the evening news in 3D."
Filmmakers are required
In order to exploit the mass market, the Karlsruhe professor does not see TV manufacturers as the most important content producers. "Writers, directors, and camera operators all need to start from scratch with the way they create 3D movies," said Pfanz. When forming an idea, or writing a script, the third dimension must be kept in mind, he said. The camera work and final cut should be aware of the character, and relationship development of the characters, in relation to the space on screen. This will create a new visual language, he says.
Wim Wenders at the 2011 BEYOND-Symposium
Professor Pfanz has even brought director Wim Wenders on board. He was the first to prove that art could do something with 3D, says Pfanz. The director, who plans to only make 3D movies in future, wants to pass his knowledge along to students at Karlsruhe University. Wenders is also pushing international directors to improve their 3D skills. They have been meeting at the BEYOND Symposium, founded by Pfanz, which takes place every two years, alternating with the festival of the same name.
Pfanz and his colleagues are well on their way, but they know that difficulties lie ahead. Film-goers can now hope for a future of artistic and sophisticated 3D movies, which, in turn, would justify the purchase of the necessary high-tech television.